Discussion on Pac-10 Rebranding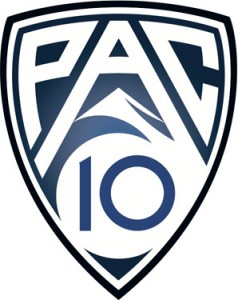 Hopefully if you're reading this, you are a member of The Business of Sports LinkedIn group… if not, what are you waiting for? A few days ago, Deandra Duggans (a previous guest blogger and author for www.sportsandalatte.com) shared a great article with the LinkedIn group regarding how the Pac-10 has rebranded their image ("Led by savvy commissioner Larry Scott, Pac-10 rebrands its image", sportsillustrated.cnn.com). She picked a great topic, because a few of the other group members started a nice conversation about the conference's efforts. I want to share that conversation with you here in case you missed it.
Dallon Christensen CMA, MBA, CPA/CITP:
Larry Scott is an absolute visionary. His idea of how to create a complete brand image of the Pac-10 is a model for any organization (not just sports organizations) looking to create a clear image in the minds of consumers. I'm sure that the Pac 10 will eventually create their own TV network, so building this integrated brand will do wonders for their image. As a Midwest native and a Big 10 fan, I see a lot of similarities between the two conferences in terms of academic and athletic balance as well as geographic spread. Scott's efforts to capture an image are important.  I love the new logo. It reminds me a lot of the traditional shield logos I see on European soccer jerseys. It's very catchy.
The Pac-10 is going to have a tough time replicating the revenue generated by the Big 10 through media rights — even after creating its own network — because the Pac-10's fan base, in terms of both reach and affinity, can't quite match the Big 10. Our firm's research suggests the Pac-10 should eventually get about $14.5 million per school per year, which is obviously short of the Big 10's $21 million per school per year.
However, if Scott can continue generating buzz for his conference, and if he can keep alive the idea that a 16-team super conference is still a future possibility, he could very well generate a bidding war in upcoming media rights negotiations and drive that number up. There are more interested parties than ever (Fox, Turner, Comcast, etc.) and Scott could use that to his advantage.
We still don't think the Pac-10 can reach Big 10 revenue numbers, but maybe it can approach the SEC's $17 million per school per year, which would be remarkable considering where the Pac-10 used to be.
Pac-10 can certainly get there given enough time. They have markets ranging from LA to Denver and then all the way up to Seattle. That is a lot of population. The problem they will face is that their demographics are not as sport-driven as the Big 10 demographics or even the SEC demos. It will be interesting to see what the PAC-10 can do.
Scott's ideas for reaching out to Asia are innovative and his conference is perfectly situated to be a leader in this area. Look at all the IMG investment in sports in Asia in the last couple of years. Obviously some of the folks in the business sector think college sports and global expansion is the next growth marketplace. Asia outreach will also be a major boost for volleyball, which the Pac 10 plays pretty well. The sport is huge in China, Japan, and Korea, in terms of both participation and media interest.
Dallon Christensen CMA, MBA, CPA/CITP:
AJ, what kind of population growth projections did you factor into your analysis? I'm curious because the American population continues to move away from the Midwest and Northeast (Big 10 country) and toward the south and west (SEC, ACC, and Pac 10 country). In fact, there were rumors flying about the Big 10 attempting to lure ACC schools like Georgia Tech and Virginia to move toward the southeast. While I agree the Pac 10 probably will not reach Big 10 or SEC revenue levels in this contract, I think the chances are high they could reach those levels in 10 years because of the population shifts in this country (same holds for the SEC).
Soccer and baseball are also very popular in the Asian countries, and the Pac-10 is extremely strong in those sports as well as volleyball. In fact, Scott's vision in seeing the Olympic sports as a gateway to the Asian sports market is the most remarkable thing I've taken from this story.
This is the type of engaging sports business discussion I love to see on the blog and in the LinkedIn group. There are so many great industry professionals that are a part of the group and willing to share their opinions that all of us can benefit from their knowledge and insight. If you haven't already, join the group today and join the discussions!