An Ultimate Fan Experience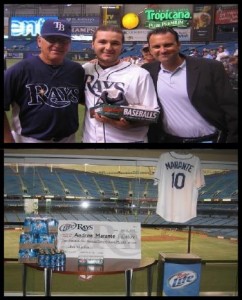 Today's post is courtesy of Brian Gainor, Founding Editor of PartnershipActivation.com. This article was featured in the July 2010 Partnership Activation monthly newsletter. I highly encourage everyone to sign up for it – always a great source of sponsorship news and marketing best practices.
Are You Providing Truly Exclusive Experiences for Fans?
Miller Lite and the Tampa Bay Rays recently teamed up to execute a "Ray for a Day" promotion that truly offered one (1) lucky winner the ultimate Rays game day experience. Miller Lite called on agent Drew Rosenhaus to host the winner, Andrew Marante, and represent him in negotiations with Rays SVP Mark Fernandez, President Matt Silverman, and GM Andrew Friedman that officially made him a "Ray for a Day".
Following the negotiations and official press conference, Marante was presented with a collection of prizes, which included a one-year supply of Miller Lite, a one-day rookie salary, an authentic, customized Rays jersey and hat, (4) pre-game field passes to watch batting practice, (4) game tickets in Row 1 – directly behind the Rays dugout, an on-field meet & greet with Rays Manager Joe Maddon, a box of authentic Miller Lite-branded Rawlings baseballs, a Miller Lite/Rays neon sign, a Miller Lite beer fridge, a commemorative press release issued by the Rays, and the opportunity to throw out the first pitch prior to the game.
The promotion, managed by GMR Marketing from ideation to execution, was picked up by a host of media outlets and the Rays organization featured a (1) minute clip of the press conference on the jumbotron during pre-game warm-ups and at the bottom of the 4th inning.
Miller Lite leveraged relationships with several retail partners (Publix, Total Wine and More, Buffalo Wild Wings, Winn-Dixie, ABC Liquor, Hess, and Beef O'Brady's) to execute the Ray for a Day sweepstakes, which tasked consumers ages 21+ with filling out entry forms between May 1– June 6 for a chance to win.
Editor's Note: This type of ultimate fan experience provides the best level of exposure and activation for a team sponsor. This particular program was able to combine point-of-sale messaging, customer data collection, prime in-venue activation and media exposure, not to mention providing this lucky Rays fan the experience of his life. Great job between the team, agency and sponsor in executing all of the elements involved in this promotion.  ~RS