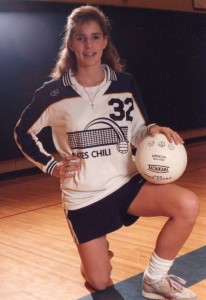 Last week, LeBron James filled us in on "The Decision." Well today, I'm filling you in on "My Decision." Before I reveal "My Decision" let me tell you about the remarkable parallels in our stories:
Young boy/girl growing up in a challenging, snowy climate (LBJ: Akron, Ohio, Me: Rochester, NY)
Athletic talent obvious from an early age (LBJ: averaged 21ppg/6rpg in his freshman year of high school basketball. Me: was told by my coach as a junior 'You can be on the varsity volleyball team, but you'll never play.' Decided to stick it out. Never played. [Note: please excuse the horrible eyebrows and braces in the picture at right])
Made a ton of money soon after graduating from high school (LBJ: millions in the NBA. Me: waitress at Cracker Barrel during the '96 Summer Olympics = an average tip of $1 per person PER TABLE!)
Finding themselves at a crossroads in the summer of 2010 (LBJ: which team do I sign for? Me: which industry do I work in?)
Which brings us to "My Decision." Well, we've got a few minutes here, so let me hold off on that and revisit LeBron's decision. Did he handle the revealing of that decision well? In a word, no. LeBron was one of the few athletes who had escaped (until now) the stereotype of being snobby, pretentious, and an overcoddled baby. He had a great smile, and people looked at him as a friendly teddy bear, albeit one with a paycheck that had three more zeros than the average Joe.
But in one fell swoop, LeBron showed us he is just like 99% of other athletes… it's all about him. It wasn't enough to issue a press release and say 'I'm going to play for the Miami Heat.' It wasn't enough even to have a press conference that would have been held live across the country to announce his new team. No, LeBron had to have a one-hour long special dedicated to he, himself and his majesty. It took him approximately five seconds to utter the words "This fall…I'm going to take my talents to South Beach and join the Miami Heat" so it seems the other 59 minutes and 55 seconds were just a glorified ego boost.
It will take awhile to assess the damage he has done to his reputation and brand. He dragged his former team and home town through unspeakable torture, making his announcement in Ohio even though he was heading to Florida. Last night at the ESPYs, the crowd boo'ed every time his name was mentioned. His best bet to clean up his tarnished image? Win a championship for the Heat. Better yet, win two or three. With LeBron, Dwyane Wade and Chris Bosh essentially playing 3-on-5, it may be more difficult than it seems.
So finally, we've come to "My Decision." My crossroads was not a choice between taking $20.83 million to play for the Cleveland Cavaliers vs. $19 million to play for someone else. It was a choice between almost 'starting over' again in the sports industry or advancing my career in another industry. You can quote me here… "This summer… I have chosen to take my talents to Tempe, Arizona, and join the staff of Arizona State University." Ok, maybe not as dramatic, but it's big news in my world!
I am leaving the sports industry for several reasons. To get to where I want to be, I need more traditional marketing experience, I need more managerial experience, and I want to feel respected and appreciated. ASU is giving me the opportunity to do all three of those things. Don't worry TheBusinessOfSports.com fans, I'll be back from time-to-time, but for for the foreseeable future, that will be as a 'guest poster.' I've appreciated all your encouragement over the last 1+ years. I'll leave you with a quote, and wish you many happy 'accidents.'
All great work is preparing yourself for the accident to happen.  ~Sidney Lumet
Editor's note: I want to take a moment to thank Amanda for all of her valuable contributions to this website over the past few months. Her knowledge, opinions and expertise have been a tremendous asset for all of the readers, including myself. I wish her nothing but the best in her career, both in and out of sports. Thanks again!  ~RS