The Tweet Heard 'Round The Sports World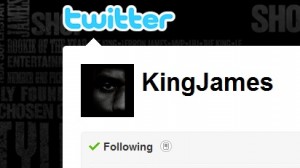 It started with one, small, under-140-character sentence…
"Hello World, the Real King James is in the Building "Finally". My Brother @oneandonlycp3 gas'd me up to jump on board so I'm here. Haaaa"
Well, actually it started several hours before that, when the word got out that twitter.com/KingJames was the official Twitter account for LeBron James. News spread of this account like wildfire, both through traditional and social media outlets. As a result, the account had close to 100,000 followers before anything was ever posted. As of 9:45PM Tuesday, that number was up to over 170,000 with still just the one tweet on the record (Update: Two tweets and 222,292 followers as of 10AM Wednesday). Darren Rovell tweeted several updates throughout the day, highlighting the account's incredible growth rate. So now that this account exists, there are two big questions (besides what team will he sign with).
What will LeBron do with his Twitter account?
What should LeBron do with his Twitter account?
Here are a couple of Dos and Don'ts to help him with his new-found interest in tweeting:
Do update multiple times per day, even if that means getting some help from your camp. With all the buzz right now, there is no better time to really leverage your social media presence.
Don't tweet just for the sake of tweeting. We're all tuned in, but if it becomes noise, we'll also tune out.
Do have some fun surrounding the pending contract announcement. Feel free to tweet and joke with other players and build the suspense.
Don't actually give any of the real news away or announce your decision on Twitter first (although with the TV special announcement, you seem to already know this)
Do be personal! Let your charisma shine through. This was a great approach for Shaq and Ocho Cinco.
Don't go over the line. Shaq and Ocho Cinco can also go too far (being critical of others, being honest to a fault). You want to be the Global Icon, so nothing that can damage the brand.
Do reply to fans occasionally. The impact you'll make on those fans cannot be measured.
Don't feel obligated to reply too much. It will take the fun out of Twitter, and we want to make sure you hang around.
While we're talking LeBron, here are some other interesting links to read through:
For the record, I think they're going with the scheduled TV announcement for two reasons. The fun reason is that he recognizes the level of interest in this decision and found a way to go something positive with it (raising money for the Boys and Girls Club of America). The business reason is (and this is pure speculation), I think it's down to the Cavaliers and one other team, but he's waiting for some action from one of those two clubs. What better way to take control of the situation than through the pressure of a public time deadline. I bet there's a lot of moving and shaking going on behind the scenes today!