Unintended Consequences of the Adidas World Cup Ball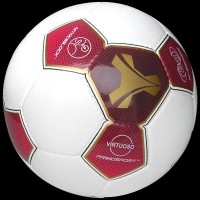 Today's post is courtesy of guest blogger Dr. Don Sandusky of Primo Sport Inc.
It's a tough call, but Adidas' new match ball just might beat out the Vuvuzuela horns as the most polarizing thing on South Africa's World Cup pitch. The Jabulani ball — translated as "Celebration" — has been criticized for its unpredictable movement, called cheap and been implicated in botched plays. The new ball is heat molded rather than hand stitched, which makes it feel a little more like a toy ball and makes it fly a little less true. FIFA plans to address the ball after world cup. If their approach toward considering public uproar and goal-line technology is any indication, meaningful change may come soon. And although this ball has been named a "nightmare," its impact extends far beyond the pitch and into a globally-devastating territory.
The center of the soccer ball universe is shifting from the skilled trades of Pakistan to the mass production of China. For decades, Sialkot, Pakistan has been home to the ubiquitous cottage industry of hand-stitched soccer balls. The skilled trades need hand strength and experience but most importantly, technique which is passed-along in a very personal way. The range of expertise in this field causes fierce competition for the most highly skilled workers. In the search for technical competitive advantage Adidas executed a well thought-out plan to innovate away from hand stitching to mass production, protected by a patented monopoly. After getting FIFA on board, their new thermal molded soccer balls started being produced on automated equipment which requires skilled operators rather than skilled trades. The process also requires reliable infrastructure and supply continuity so the assets were deployed in China rather than Pakistan. By all accounts, the thermal molded ball strategy is working well for FIFA, Adidas and their manufacturing partners.
But what about the Pakistani stitchers? Everyone knows that Pakistan is caught-up in chaos. Newsweek recently reported that for 2009, Pakistan surpassed war-torn African nations in the number of newly displaced people. And although two-thirds of the displaced have returned home, most have returned to "grim futures," facing destroyed homes, livelihoods, families, schools and hospitals. Maslow's hierarchy of needs supports anecdotes that regular Sialkot residents are focused on basic stuff. But, with the trend away from hand stitched soccer balls toward mass produced thermal molded, skilled tradesmen are losing work to the ever expanding Chinese factory. This may be an unfortunate time to export this kind of work from Sialkot.
So yes, the trend to molded balls has distressed soccer players and coaches across the globe. Molded balls are polarizing but a missed goal is usually not a tragedy. What's devastating is that the trend to molded balls is undermining the basic needs of the poor folks in Sialkot, Pakistan, whose livelihoods have always depended on work outsourced by the soccer Futball universe. At Primo Sport Inc., we apply our Nitroblock® latex bladder technology exclusively to 32-panel hand stitched soccer balls, made in Pakistan. We can't castigate FIFA or the makers of molded balls (like the Jabulani). In fact, we're all about technological innovation. But we can say this: when we talk to our Pakistani vendors, they keep a stiff upper lip and say the best thing we can do for them is to make more ball orders and to keep their people busy. And we believe them, so we will.
Don Sandusky is a Ph.D. Engineer who cut his teeth in the R&D labs at NASA, then hired-on with DuPont. He worked his way up through the ranks for 10 years before setting off on his own to start Primo Sport, Inc, where he invented the Neverflat® technology, which is licensed to Spalding and continues to be the #1 basketball. He enjoys getting his head around a big idea, putting the pieces together and helping a team build a brand. In addition to heading Primo Sport, he works with other entrepreneurs to help structure start-up's, derive workable commercial transactions and building teams with every reason to overachieve.