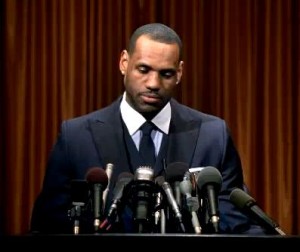 We are days away from arguably the most important and historic free agency period in NBA history. The biggest question is, where will LeBron James sign? Stay at home in Cleveland? Hit the Big Apple? What about Chicago? The sports media cannot stop talking about this question, with everyone spouting their own theories and "insider" information. The same story goes for Wade, Bosh, Stoudemire, Johnson and others, although not quite on the same scale.
While all NBA teams need to wait until July 1 to start officially pursuing these free agents and July 8 to actually sign any of them, there is an incredible "signing" opportunity sitting out there right now that no one has taken advantage of yet. No need to wait until July!
Why hasn't a single company stepped up and "signed" LeBron to a new endorsement deal during this pre-free agency buzz? Why haven't we seen articles, press releases, tweets and more with the huge headline of "LeBron James Signs New Deal"? This seems like such a no-brainer for any company looking to make a big endorsement splash during a period of huge offseason media attention.
Remember how much buzz State Farm got for the fake LeBron James / Cleveland Browns signing campaign that they ran in 2009? That seemed to have been a very effective campaign for them in an industry that doesn't generally sign athletes to endorsement deals (most insurance companies concentrate on team and league sponsorships). Imagine how big a LeBron James signing campaign could have been…and could still be?
I know companies want to know what team and market an athlete will be playing in before committing a large amount of money to an athlete, but seriously, we're talking about LeBron James, currently the most iconic figure in professional basketball. The team almost doesn't matter, so why hasn't this happened?
Attention Corporate America – time is running out! Have your people call his people right away. And if LeBron's people are reading this right now, I'd be happy to sign him right now, as long as he'd do it for free! The buzz would be huge…call me (973-498-TBOS)!