USA Success Benefits ESPN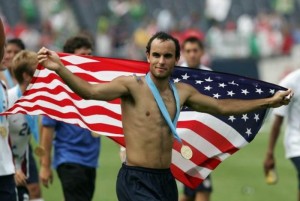 By now, you've heard about the United States' Men's Soccer team's win over Algeria. If you live under a rock or have no friends, the short story is that even though they had a valid goal disallowed, and Algeria had many solid chances, the U.S.  pulled out a win when Landon Donovan (right) buried a rebound in the 1st minute of stoppage time. This goal not only continued the Yanks' World Cup hopes, but also had executives for ESPN breathing a sigh of relief.
As a soccer fan, I'd like to commend ESPN for going 'all-in' (to use a poker term) for this year's World Cup. In the past, U.S. games might be shown, but many of the other games were nothing but afterthoughts. This year, every single match (all 64) will be shown on one of the many ESPN/ABC networks. They have been rewarded for their support, with the US/Slovenia match garnering the largest ever audience for an ESPN-televised soccer match (just under 4.7 million viewers) and the U.S./England match, the second-most watched U.S. soccer match of all time behind a U.S./Brazil match in 1994, garnering over 13 million viewers.
If you average all of the games through this past Sunday, you get just over 2.1 million viewers per game. That means that the U.S. playing in a game increased viewership by more than 300%. With higher stakes (single elimination) and the flood of press that Wednesday's game will bring, I'd guess final numbers will well exceed the U.S./England match.
To put these numbers in some perspective, the 13 million that watched the U.S./England game exceeded the number of viewers for every single game in the NBA Finals except for game 7. The U.S. will be taking on Ghana in a rematch of a first-round tie in 2006. That game also ended in controversy, with Ghana winning 2-1 on a dubious penalty kick.
Add up all the story lines:
The United States winning their group for the first time since 1930
The U.S. advancing into the round of 16
The U.S. taking on Ghana in a revenge match
Record-breaking ratings for previous matches
Prime Saturday afternoon (EDT)/morning (PDT) time slot
This adds up to be a great day for ABC/ESPN execs. They took a chance by signing a $100 million deal in 2005 to show six FIFA-sanctioned tournaments. Not including the advertising revenue they'll rake in for this Saturday, the networks also stand to gain an increased following from soccer-mad Americans who are grateful that their sport is finally getting the coverage it deserves. I know this soccer fan will remember what network brought all this excitement into her living room, and in HD no less.
So congratulations to the U.S. Men's National Team. Today they made the country proud, and saved a few jobs over in Bristol, CT.