Comped Tickets Lesson from Kansas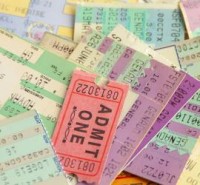 In case you missed it, there was a big story last week about the University of Kansas box office ticket scalping scandal. As the story goes, some number of staff members sold at least $1 million worth of "comped" tickets secretly to local donors and ticket brokers, pocketing the money for themselves and not recording any revenue in the school's ticketing system. A full audit of their sales records is taking place, with the belief that the scam could have involved up to $3 million worth of tickets.
This story is a wake-up call for any ticket selling organization. There are so many lessons to learn from the situation they went through.
Most importantly, a thorough, multi-tiered series of checks and balances is needed when it comes to managing comped tickets, and I mean more that just "my boss said it was ok." Comped tickets may not seem like a big deal, but depending on how they're being used, you can end up devaluing or even competing with your own product. These tickets are a valuable asset and should only be used for specific business purposes. Some examples include:
To assist a salesperson in closing a larger deal
Providing value to a current or potential sponsor
Rewards for employees
Giving back to the surrounding community
Regardless of which way they are being used, all comped tickets should be explicitly approved by a manager electronically or in writing (for record keeping purposes). Most CRM systems have easy-to-build manager approval workflows that can be used to streamline this process. Now in the case of Kansas, there was a manager involved in the scandal, so this wouldn't have been enough. That is why, on a regular basis (weekly or bi-weekly), a game-by-game comped ticket report should go one or two steps further up the ladder to senior staff (Vice-President or Athletic Director level).  Again, CRM or ticketing system reports should make this a simple process, and any irregularities or unusual quantities of comped ticket usage will need to be justified, hopefully in a way that shows how those tickets have generated results (increased revenue, sponsor satisfaction, etc.).
Finally, every ticketing organization needs to develop an internal culture that stresses responsibility and integrity. According to the ESPN article, the report described these particular employees as "ice cream store" workers who seemed to "feel free to sample the wares without paying for them." This shows how no one in the group took their responsibility seriously. The idea that these were "just free tickets" and didn't hurt anyone was short-sighted and showed a lack of respect for their organization. Those ideas should have been stressed from the top down as part of the organizational culture from the very beginning.
Everyone in working in sports loves to be able to help friends or family out with tickets to events here and there, but without accountability and integrity, it can be a slippery slope when it comes to comped tickets.