Delivering Happiness – Part II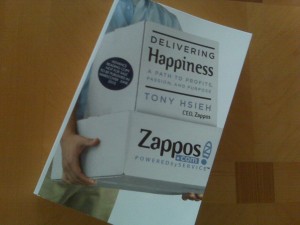 A few weeks ago, we gave away an advance copy of "Delivering Happiness," a book by the CEO of Zappos.com, Tony Hsieh (Congratulations Alan Cassinelli!). Today, the book officially goes on sale. If you're anything like me, you appreciate finding out a little about a book before you buy it. Will it be worth your time to read? Will you be inspired by reading it? I hope these next few paragraphs answer those questions for you. (Note: all quotes are directly from the book unless otherwise noted)
DH is a book of stories. As it says on the back of the book jacket: "Tony shares the different business lessons he learned in life, from a lemonade stand and pizza business through LinkExchange, Zappos, and more." This book will be useful to a person working in any industry and at any level of an organization. It will especially speak to entrepreneurs and those who already seek to positively benefit others through their choice of profession. It is a quick read (one afternoon by the pool, on the treadmill or in an airplane and you'll have it finished) and packed full of snippets you'll want to highlight and return to.
By all accounts, Hsieh has been a successful business man. He sold his first company for over $256 million to Yahoo! and his second (Zappos) for over $1 billion to Amazon. But the benefit of his wisdom is not in how to create traditional value in company by going public or raising capital. The entirety of DH is in how to be successful while also working towards a higher purpose than just making more money. At one point, Hsieh realizes "… experiences were much more important to me than material things." (pg. 76) What a great point to remember when dealing with our customers, vendors and clients, especially in the sports industry where there can be so much passion among all of those audiences. While you may end up with the sales numbers or contract terms that you wanted, what usually sticks with you over the months and years is the overall experience you had dealing with the other party.
Another very interesting part of the book is how Hsieh uses lessons learned in poker and applies them to the business world. Everything from selecting the right table (industry) to bluffing to thinking long-term. Those are just a few, and the list of parallels is surprisingly long and relevant.
The overall gist, as the title suggests, is how delivering happiness to those around you, not just customers, but employees and vendors as well, is a recipe for success. An organization can actually increase their level of success using 'delivering happiness' as a strategy. Obviously, this isn't a change that can happen overnight in most organizations, and for Zappos, the movement was very organic, but there are plenty of useful suggestions and interesting examples to ensure the time spent reading the book will be worthwhile. My guess is you'll read it more than once, and keep it within arms reach going forward.
What do you think? Is 'delivering happiness' a strategy that can work in sports? In my last post, several readers shared their own sports-related examples that demonstrate this idea quite well. Have you read the book? If so, what part had the biggest impact on you?