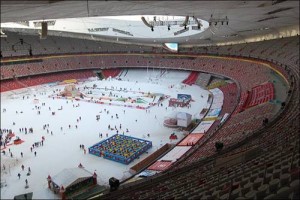 Today's post is courtesy of guest blogger Joshua Boren.
As a soccer fanatic, having grown up both playing and watching the game, I have been overcome with excitement as we move closer and closer to kick off of FIFA's 2010 World Cup in South Africa. However, while I am excited for the event itself and watching with great interest to see the Americans beat expectations, 2010 is the first time I have been more enticed by something else: the venues themselves.
There are a number of elements to consider – the design, beauty, inspiration, political maneuvering, local stories, expectations, etc. – but perhaps the most interesting question will be the one surrounding what to do with the stadiums come July 11th when the final match and FIFA's closing ceremony is held. It is an issue we grapple with as industry, having seen the inefficient use of the Bird's Nest post-Beijing's 2008 Olympic Games as a "Winter Wonderland", but the question is always the same – how do we design these venues to accommodate the large-scale event that they are fabricated for while providing enough flexibility to ensure there is a sustainable economic and financial viability for the facilities' legacy?
While the architecture, engineering, and construction (A/E/C) teams have done a remarkable job of creating venues that blend in with the natural settings of South Africa and do not compromise the historic context of the region, the primary Soccer City Stadium in Johannesburg was renovated at a cost of approximately $430 million (R3.3 billion) alone. That is the cost of just one of ten venues selected to host games, including 5 major renovations and 5 brand new facilities. With such enormous expenditures heavily reliant on government and political contributions, the question of whether or not this is the best use of public funds will always loom. Honestly, we will not be able to make an accurate judgment until many years after the World Cup ends.
These venues are meant to serve a larger purpose than hosting the games – they are meant to accelerate the growth of emerging countries and generate significant economic return for those established hosts. In the case of South Africa, the development of venues like "Soccer City" is looked at as a driver of future growth and economic development in a region needing a "kick" start while uniting an entire continent in the duties of showcasing the world's most popular sporting event. In the mean time though, the results to date have not been quite as positive as hoped. The Local Organizing Committee has had to deal with strikes from stadium workers, a negative reception from the impact of construction on local businesses, an outcry for better schools for those moved for stadium construction, etc. Additionally, major outlets like ESPN and Sports Illustrated have carried content about how hosting duties have yet to catch on as a continent wide celebration with ticket sales reportedly slow in countries outside of South Africa itself. If the locals are struggling to afford tickets, the ability to utilize these venues post-World Cup may prove difficult. At nearly 95,000 seats, even with legacy plans to downsize, "Soccer City" is going to be a tough stadium to fill on a consistent basis.
This is why ultimate flexibility and innovation is key. Take the Saitama Super Arena in Saitama, Japan for example (designed by Dan Meis, FAIA). It is the only building in the world capable of mechanically transforming from a 10,000 seat arena to a 35,000 seat stadium (learn more here). As such, while it permanently hosts a J-League soccer team, the facility addressed the long-term need to sustain financial and economic viability by offering the ability to host as many event days as possible via an extremely flexible configuration. The venue has also become part of the community by hosting swap meets and farmers markets when in the smaller arena mode, ingraining itself in the local culture of the region. Furthermore, the venue solved the issue of reducing costs by developing a facility that, while slightly more expensive than a standalone building, was still less expensive than developing two separate venues. While a unique example, the hope is that these venues specifically built for South Africa's right to host the 2010 World Cup do help accelerate the transformation of the country. Only time will tell but, while rooting on your country, take a moment during the game to enjoy the architectural beauty and iconic nature of these structures.
Joshua A. Boren is the Business Development Manager for Aedas Sport, an architecture and design firm specializing in new and renovated sports and entertainment facilities. Joshua, a graduate of The Wharton School at the University of Pennsylvania, is responsible for leading the firm's direction into new international business opportunities related to the sports and entertainment industry and establishment of the Aedas Sport brand. He can be contacted at joshua.boren@aedas.com, on Twitter (@AedasSport) or via LinkedIn (Joshua A. Boren).