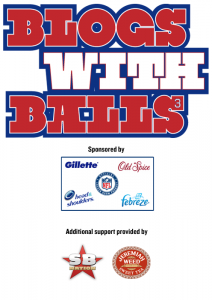 Since you are sitting there reading this, I don't need to tell you about the value of blogs (and sports blogs in particular) in the marketing and social media landscape. However, it seems as if that understanding is now reaching the large-scale consumer products industry. In particular, I'm referring to the recent announcement that Blogs With Balls 3 (BWB3), a sports bloggers conference that has only been around for about a year, just signed on Proctor & Gamble to be their presenting sponsor. In particular, P & G is specifically focusing on their "Official Locker Products of the NFL" brand and line of products in this event sponsorship.
I had the change to attend the first Blogs With Balls event in New York last June and came away very impressed. The panels deal with very important topics in sports media, including advertising, traditional vs. new media, branding, interactive content and more. While most of the attendees themselves are blog authors and publishers, I felt like anyone in the sports community (teams, leagues, media outlets, brands, etc.) would have learned a great deal from the event.
Several of the original sponsors are back again, including SB Nation, Bleacher Report and YardBarker, which makes sense considering the conference audience. However, I'm very pleased to see a company like P&G (not to mention Captain Morgan, Guinness, and Fox Sports among others) recognize the value in associating themselves with the sports blogging community through an event like this. I wouldn't be surprised to see them further increase their involvement with the sports social media landscape after BWB3 is over.
For more information on Blogs With Balls 3 in Chicago, including details on how to attend, with www.blogswithballs.com.