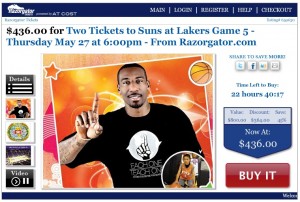 A couple of weeks back, I wrote a post about how teams can take advantage of sponsor relationships to sell "discounted" playoff tickets without directly discounting their seats and in the process, devaluing their product. Well, the Suns' Amar'e Stoudemire has found an even more creative approach that brings the athletes themselves into the equation through their social media outlets.
In case you haven't seen it yet, you can find the full article over on Mashable.com. The short version of the story is that Amar'e partnered with RazorGator and AtCost.com to offer "group" discounted tickets through the store tab on his Facebook page. I call them group tickets, because the more people that took advantage of the offer, the better discount everyone received, similar to how Groupon.com and AtCost.com are able to provide great discount offers by selling their offers to a large number of consumers. By the time the offer expired, two tickets that normally go for $600 total sold for more than 50% off, and the entire allotment of tickets for both games 3 and 4 sold out (the offer was posted separately for each game). In fact, there is now an offer up on his page directed towards Amar'e/Suns fans for game 5 in Los Angeles (as of writing this, the price for a pair of tickets was down to $435.97).
This may be one of the most effective social media sales tools that teams (or athletes) have implemented to date. Now in this situation, they were selling a fairly high-demand/high-value item, but the tactic should translate to all different types of ticket inventory and beyond – maybe we'll see a merchandise offer next. Very cool promotion from Amar'e and all of his partners.