Athlete Endorsements – What's in a Name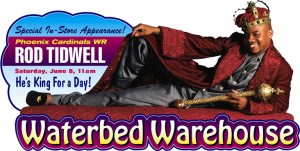 Have you heard about Burgergate? Phil Mickelson has apparently been frequenting 5 Guys Burgers and Fries quite often recently, and the former In-N-Out diehard has now switched his allegiance. The skepticism comes with the knowledge that he owns the right to a Southern California 5 Guys franchise, causing one to wonder whether this sudden fascination with the burger joint is more about his wallet than his gullet. Either way, we know Phil likes his hamburgers.
So that got me thinking about other partnerships that would make perfect sense:
LeBron James (Cleveland Cavaliers) – King's Dominion amusement parks
Darnell McDonald (Boston Red Sox) – McDonald's
Bryan Namoff (DC United) – Goo Gone (Get it? Name. Off.)
Nick Hennessey (Buffalo Bills) – Hennessy Cognac
Why don't more athletes take advantage of these kinds of endorsements? They are better fits than one of your local MLB players shilling for a furniture warehouse or jewelry store. The key to a good celebrity/athlete endorsement is a realistic association between the two. For the brand/company, hiring an athlete to endorse their product or service creates a stronger awareness. People are more likely to pay attention to a TV commercial if one of their favorite players are talking, than they would be if the owner of the company was the star.
I think we can all remember Rod Tidwell shilling for Waterbed Warehouse in 'Jerry Maguire.'  Not exactly the perfect match of celebrity to product/service. The key is to find a link between the two that is natural, either because the player truly patronizes that place of business – Chad Ocho Cinco and McDonald's is a good example because he eats there all the time and constantly tweets about it – or because there is some other link such as similar names, where they are from, or an off-the-field incident (like Mickelson being photographed at Krispy Kreme). The link needs to be real and obvious enough that consumers can make the connection in just a few moments. Otherwise, the endorsement comes across as insincere and will not reach its full potential.
The allure of hiring a celebrity endorser can be strong, but before reaching out to the star player make sure of two things:
The association makes sense – Do people have to read the copy or listen to the whole commercial for them to understand why the athlete is endorsing the product? If so, it may not be a good fit.
The athlete can be trusted – We have numerous examples of athletes that have embarrassed the companies that they endorse. The largest and most recent is Tiger, but even mom-and-pop stores need to do their due diligence before they sign an endorser. Nike could sit back and weather the storm, but smaller companies might not be able to. So before they sign on the dotted line, a (thorough) background check might not be a bad idea.
What athlete endorsement did you think was the best fit? Was it a locally relevant one or an ad we saw on the national stage?