Opportunity to Sponsor Accomplishments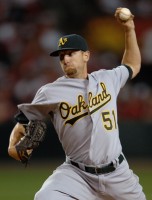 After reading about Dallas Braden's perfect game, which was also the 2nd no-hitter in Major League Baseball this year, I realized that this type of accomplishment could easily be associated with a sponsor in a positive way for the sponsor, the sport and the player involved. Think about it for a moment – we already have presenting/naming sponsors for several major awards (NBA MVP presented by Kia, the Rolaids Relief Man of the Year, etc.), but there are so many great individual accomplishments beyond awards that brands would benefit from associating with. Here are a few quick examples that I thought of:
Baseball:  No-hitters, hitting for the cycle, triple plays
Basketball:  Triple-doubles, 40/50 point games
Hockey:  Hat tricks
Football:  Kickoff return TDs, 200 yards rushing/receiving, perfect passer rating
I think my baseball examples probably work the best for this idea. I know some people may feel that this tarnishes the purity of the game, but sponsors have been such a present part of the game for so long now, I believe that argument has lost it's merit. Take Braden's performance yesterday – how damaging would it be for the media broadcast to congratulate Braden on behalf of a premium brand like Lexus. Then in his next game, Lexus could present him with a brand new car to congratulate him for his "perfection", an idea that Lexus would happily associate with their brand. Or at the end of the season, there could be a special event or ceremony hosted by Lexus to recognize all players that achieved the accomplishment. The sponsorship would be at a league level, and trickle down to all the teams. Since these events are rare, I'm sure other elements could be incorporated to provide more value in both directions.
So what do you think of my idea?