Geolocation Case Study With the Nets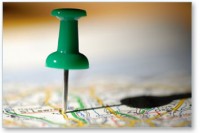 Geolocation is definitely a hot topic in social media, and as such, is starting to make its ways into the sports marketing landscape. The idea that you can proactively target and communicate with people based on their exact or relative location is a very appealing thought. Right now, all sports organizations practice based forms of geo-targeting in their marketing campaigns. This can take several shape, such as:
Delivering web advertisements only to visitors from within your DMA (designated market area)
Sending direct mail pieces to certain towns and zip codes within your DMA
Purchasing prospect lists based on a combination of zip and area code
Placing billboards and running grassroots events locally
All of these measures are taken to another level when you break down your existing customer base to find out what zip codes you have the most success in and focus these campaigns to the areas with the best fan penetration.
VaynerMedia and the New Jersey Nets have taken the idea of geo-targeting in another direction with geolocation through social media. This live, interactive form of geo-targeting has some great potential for teams and leagues to interact with local fan segments in ways that can drive fan affinity and revenue. Take a look at the case study to see what they did with their recent promotion through Gowalla.
The guys at the Row Show also discussed this case study live with Sam Taggart from VaynerMedia. Check our their discussion below.