How Sports Can Deliver Happiness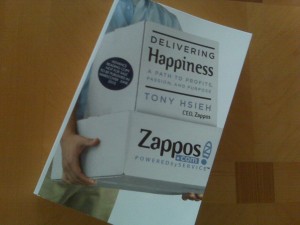 Today's blog post will be a little different than most. For one, it includes a giveaway! As a blogger, I was privileged to receive an advanced copy of Tony Hsieh's 'Delivering Happiness' which won't officially be released until June 7. To my surprise, when I got the package, it also included an extra book for me to give away. While I was reading it (in two days flat), I ran across many nuggets that would be relevant to sports franchises, brands and sponsors.
Tony is the CEO of Zappos.com, a company well-known for its ability to surprise and delight their customers. While I won't give my full book report now (that will come the first week in June), I wanted to give all of TBOS' faithful readers a chance to win the book. So, between now and Tuesday, May 4, post a comment to this blog entry and let us know how you currently deliver happiness to your fans/customers/readers/friends, or how you think you could do so in the future. We'll pick the best entry and mail the book out to you!
The book has two main focuses: how to treat your employees, and how to treat your customers. I worked for a company once that openly stated they expected new employees to work there for two years, grow a little bit, then leave, because they wouldn't be paid what they were worth. Now, that company is still in business, but I don't know a single person who works there that isn't miserable and counting down the days to their next job. You'd have to imagine that that attitude is in some way passed on to their customers. Zappos, on the other hand, fosters a culture that celebrates each person for who they are, and openly creates a pipeline of talent so that if someone does leave, they know that they have another skilled individual waiting in the wings. If you worked for Zappos, how amazing would it be to know that they not only wanted you to learn and grow, they expected it of you, AND they made resources available to you to get it done?!
On the other hand, Zappos actively tries to surprise their customers with exceptional service. This is relevant to sports teams and their fans in so many ways. It can take just one minute for a player to record a video and for it to be uploaded to Twitter or the team's site. A sincere thank you email takes even less time to compose and send. This book will inspire you in so many ways, regardless of whether your customers are fans, vendors or teams.
Now, one word of warning, when you get done reading this book, you may very well want to quit your job, move to Las Vegas, and start working for Tony Hsieh. Neither myself nor TheBusinessOfSports.com can be held responsible for that phenomenon. Make sure you include your email address in your comments below so that we can contact the winner.