Guest Post: Sustaining the Sports Facility Marketplace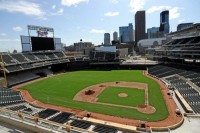 Today's post is courtesy of guest blogger Jared Frank.
The vernacular of today is slowly evolving to include words and phrases like cap and trade, carbon footprint and LEED. What comes even slower is the understanding of these words and phrases. The conversation surrounding green initiatives is one filled with common sense and stewardship or rhetoric and agendas depending on the perspective. While campaigning for the merits of either side of the debate is futile and frustrating, venue development professionals can champion the middle ground by embracing a simple buzzword that appeals to both sides – Sustainability.
One thing we can all agree on, especially in the current economic state, is saving money is good. Obviously, we are still focused on generating new revenues, but there is an increasing acceptance of cost savings as a viable part of the mix. So simply stated, sustainability is a vein to a healthier bottom line and necessary to preserve our financial models that depend greatly on the continued profits produced by sports venues.
The Case for Sustainability
A little over 20 years ago, the era of new stadium construction began, forever changing the economic landscape of the sports business world. Many historians point to the opening of Camden Yards as the seminal event of this movement, but they do so erroneously. Before Camden Yards was the New Comiskey Park in Chicago, and before that was the Skydome in Toronto.
The price tag on the Skydome was nearly $600 million. Compare that 20 years later to the New Meadowlands Stadium and its $1.6 billion price tag. Noticeably, costs have gone up. For teams looking to build out in the near future, they are well served to accept that costs will continue to escalate. Venues must be scalable to maximize return on investment, and must be sustainable in order to ensure profits well beyond 20 years.
It is also worth pointing out that new builds are not primarily financed through public funds any longer. For those owners footing a larger portion of the bill, making their investment last is essential. And for those facilities still tapping into public coffers, if the design is environmentally efficient, taxpayers will know their contribution has gone to an eco-friendly effort that contributes to the entire community. It is almost a sense of charity, or source of civic pride in the least.
Clearly, this issue is not top of the mind just for the environmentally conscious anymore. We have all seen Avatar by now. It has taken time for technology and understanding to catch up to the idea, but now because eco-design and building principles and procedures are more refined and less arcane to architects and construction managers, upfront costs are competitive with similar plans simply built to standard code. Factor in the long term operational cost savings, and environmental responsibility and financial returns juxtapose.
Moving Forward
Leadership in Energy and Environmental Design (LEED) is not perfect. It is currently a blanket rating system that does not take into account regional environmental differences. But you have to start somewhere. And many municipalities incentivize LEED construction with tax credits and exemptions, which sweetens the deal for owners, so we all have a stake in this ongoing movement.
Sustainable building concepts are still in their infancy, but certainly are crescendoing towards the status quo. Nationals Park, home of the Washington Nationals, became the first LEED Silver Certified professional sports stadium in 2008. Following suit, the two newest buildings in the industry due to open shortly, Target Field and New Meadowlands Stadium, both have incorporated green design elements.
The Minnesota Twins have taken things one step further by partnering with Pentair, a Minneapolis-based water solutions company, and establishing the first-ever eco-sponsorship in professional sports. Pentair's Rain Water Recycle System (RWRS) will reduce Target Field's municipal water needs by 50% by catching and reusing rain water. And saving water means saving money. While we should never view these savings as a means to monetize environmental ethics, saving, whether it be water or money, means sustaining the future of the sports facility marketplace.
Jared Frank is the editor of SEAT Magazine, published by the Association of Luxury Suite Directors (ALSD). You can follow Jared on Twitter (@SEAT_Editor), connect with him on LinkedIn and reach him via email at jared@alsd.com. Green initiatives and all other issues facing the premium seat and sports facility industry will be addressed at the 20th Annual ALSD Conference and Tradeshow in New York City, June 27-30, 2010.