Guest Post: Get Into The Sports Industry – Part 2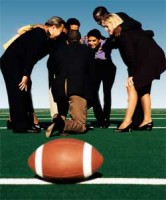 Today's post is courtesy of guest blogger Matt Weinberger. Make sure to read Part 1 from last week!

The sports industry is an exciting place. Too often I get questions asking how one can go about getting into the industry. In response I have created my personnel list of 10 things one MUST do to get into the sports industry and be successful.
5. Find out what your core competencies are – Core competencies often come up in talks about what a company or organization's most significant value creating skills are. In essence, they are an organization's areas of expertise. But here, you want to focus on YOUR core competencies. What kind of value can you add to an organization? What do you bring to the table? And, what is your personal brand?
6. Get Creative – Listen, this is the sports industry we are talking about. This isn't rocket science, and don't let anyone ever tell you otherwise. The sports industry is a fun, exciting, creative, and sometimes intense industry. As such you need to be on your toes at all times, but also never lose your creativity. Each day organizations throughout the industry are coming up with interesting, thought provoking and unique ways to generate business. Be creative at all times, find new avenues and ideas people in the industry aren't talking about and own them!
7. Cover Letter and Resume – Too often this is an afterthought. Make sure your resume and cover letter are synchronized. When you apply for a job these two documents are your chief selling points, so make sure that's exactly what they are – SELLING POINTS. For more reference, see this recently published NY Times article. Resumes and cover letters alone may not get you the job but they surely can lose you the job. There are many organizations in the sports industry (which shall remain nameless) who are notorious for throwing out resumes with even the slightest mistakes whether grammatical or stylistic. As such, take time to work on your resume and constantly update it.
TIP: Have at least three other sets of eyes look at your resume. You would be surprised the small mistakes that others may spot that you haven't. In addition, don't be afraid to hear others critiques/comments about your resume. While everyone has a different opinion on style for resumes, it is a positive step to hear comments from others and then use your own judgment as to whether you want to incorporate their suggestions into your resume.
8. Internships – Internships are a place to get into the industry for those who aren't. While they often require you to work for free (or for school credit) they can provide invaluable experience and opportunity.
TIP: Websites like sportscareers.com, workinsports.com and teamworkonline.com provide a good starting point for seeing what internships are out there. You can also check team specific websites, agencies websites or league websites who all in some form or another have a job board where internships are posted. Another good place to start is in the minor leagues and college athletics. While professional sports teams are pretty limited in number, the amount of college athletic programs and minor league teams (specifically baseball) are in the hundreds. I assure you that almost all of these teams offer opportunities to get involved, check them out. It's a great place to start you career on a small level and learn how things work in a grassroots type environment.
9. Who's Got Your Back – This one is my favorite, so I saved it for last. Okay, so your finally in the industry. You are doing successful, working your way up the ladder into key decision making roles. But take a second to ask yourself. WHOSE GOT YOUR BACK? By this I don't mean who is going to back you up in a fist fight. Rather, I mean who are you going to turn to when you need advice, help with personal decision making, or when you are at a crossroads in your career. Do you know three people who you can turn to at this critical time? If you don't you might want to think long and hard about who those people CAN be. The professional "superman" myth and the going at-it-alone philosophy won't work in the sports industry. Deep, trusted relationships will offer encouragements, feed back and concern when you need it most. Find people who will be open and candid with you, and won't just say what you want to hear, those people often have your career best interests at heart.
Good Luck and enjoy the ride.
Matt Weinberger is a graduate of the Sports Management program at the University of Massachusetts and has held various intern positions at professional sports organizations in the NYC area. Matt is currently studying at New York Law School in New York City. You can follow Matt on Twitter (@MattWeinberger) and he can be reached via email at Matthew.D.Weinberger@gmail.com.