Guest Post: Get Into The Sports Industry – Part 1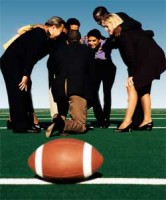 Today's post is courtesy of guest blogger Matt Weinberger. Make sure to check back next week for part 2 of his column.

The sports industry is an exciting place. Too often I get questions asking how one can go about getting into the industry. In response I have created my personnel list of nine things one MUST do to get into the sports industry and be successful.
1) Be Proactive – This is your career. If you want to be successful at it you need to take matters into your own hands. In the sports industry, you can get lost quickly if you sit still on the sidelines (excuse my pun). Being proactive means talking to people, finding out what they do and what a daily day is like in their current position. The more you know about the industry, and how teams/marketing agencies/league offices function, you will better be able to pinpoint exactly what type of job you would like in the future. Too often people ASSUME they know what a Marketing Coordinator, General Manager or a Group Sales Manager does for an organization on a day in and day out basis. But think long an hard…do you REALLY know what these people do in their positions on a day in and day out basis? If you don't then it would be wise to find out, because the more knowledge you acquire the better you are able to position yourself effectively in the industry by correctly matching up your skill set, wants, and desires.
TIP: Find people that are currently in positions that you would one day desire to have. Take time each week to try make contact with some of these people. Send them an email – not in a harassing way, but a polite way. Ask them a few questions about their job, and maybe some advice. Kindly let them know that you appreciate them taking time to answer you. You never know when their information/advice could come back to help you. Remember, not everyone will always write back, but I can assure you that most people are very helpful if you approach them properly – after all they most likely are in the position they are in currently because someone else took the time to help THEM.
2) Network – Listen, we hear it all the time… network this and network that. Sometimes just the thought of the word "networking" conjures up a thought of a stuffy awkward conversation. But the truth is, it really does work. It's time tested, and for sure recession proof. With that I mean that whatever the current job market situation is, networking with people never fails. Again, learning about other people and their careers can go a long way to influencing and helping your own. In the era of web 2.0, there are a variety of opportunities to network. Blogs, Twitter and LinkedIn are all first steps to cultivating meaningful and long lasting conversations. Look around, throughout the internet space there sport industry professionals chatting and sharing ideas with each other. Join in with them. Take time to hear them out, and make connections with them. Be careful, in the era of 2.0 there is a temptation to lose touch with personal networking, that is live in person face-to-face conversation. This type of networking is still way and above better then any done online. Take time to seek out networking events, and try your best to attend each and every one.
TIP: TheBusinessOfSports.com regularly organizes sports business networking events. As a first step, check those out!
3) Read – With the Internet these days the amount of material on the sports industry is astonishing. It's almost overwhelming. Information overload is certainly a problem with all of the various sources of "news." But yet reading is still key. Things happen in the sports industry at a rapid pace, it's part of what makes it so appealing, so adjusting to the information flow is crucial. Finding areas of the industry that interest you is a good way to prevent information overload. For example if you one day aspire to be a sports lawyer, a good place to start would be the Sports Law Blog, which contains commentary from some pretty experienced sports lawyers and professors.
TIP: Find a few reliable sport BUSINESS outlets to follow and follow them consistently. But look in the right places. Sure ESPN, FOX Sports etc are great places, but if you want to be in the Sports Industry, you are going to want a place where you can find Sports BUSINESS news. My suggestion: the Sports Business Journal and Sports Business Daily.
4) Understand – Understand how the sports industry works. Realize that the sports industry is 24/7. Unlike a typical workplace 9-5 job, sports events take place at "odd" times – nights, weekends and on national holidays. On a given day, while your friends head to the local bar at 5 PM for happy hour, you and your organization may be prepping for a game stating at 7 PM against the cross town rival. Can you handle working at these so called "odd" hours? If you can't and aren't prepared to do so then this might not be the industry for you. Remember, the excitement comes with a price. Just ask some coaches or general managers how many times they have moved across the country for new positions.
TIP: Take time to access what you are willing to give up and what you aren't willing to give up for a career in the sports industry. If you do this now, you will save a lot of headaches and possibly even heartaches in the long run.
Check back next week for the rest of the list!
Matt Weinberger is a graduate of the Sports Management program at the University of Massachusetts and has held various intern positions at professional sports organizations in the NYC area. Matt is currently studying at New York Law School in New York City. You can follow Matt on Twitter (@MattWeinberger) and he can be reached via email at Matthew.D.Weinberger@gmail.com.