In Other Sports Business News…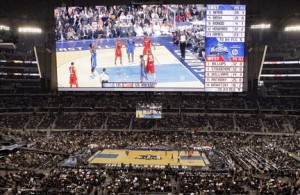 In case you've been mesmerized by NBC's coverage of the 2010 Winter Olympics, I felt it was my duty to let you know what has been going on in other sports news since February 13.
February 13 – Danica Patrick finishes 35th in her Nationwide debut at Daytona International Speedway, and Jamie McMurray gets the Daytona 500 win the next day.
February 14 – The NBA's All-Star game sets an attendance record for basketball when over 108,000 pack Cowboys Stadium to see the Eastern Conference squad defeat the Western Conference squad 141-139.
February 19 – Tiger Woods makes his first public appearance since his now-famous car accident in November (see Russell's previous post for the public reaction). He returns to rehab soon after to complete his treatment.
February 20 – UFC 111 heads to Australia after selling out their venue in four hours
February 22 – Papa John's signs on as presenting sponsor of the NBA D-League on Versus
– ESPN suspends Tony Kornheiser over comments made about Hannah Storm
– Coca-Cola extends their agreement with UEFA, meaning they will be a global partner for the next two UEFA championships.
February 24 – MLS' Philadelphia Union announce that a naming rights deal has been signed for their new soccer-specific stadium with PPL Corp.
– Mike & Mike in the Morning celebrate their 10th anniversary by broadcasting from Disney World.
All week – With some stops and starts due to weather, Major League Soccer and the players' union continue discussions about a new labor deal. The deadline was pushed back from January 31 to February 25.
Needless to say though, the Olympics have dominated the headline for the last 12 days. Lindsay Vonn's bruised shin, a surprise U.S. hockey win over Canada, the untimely and tragic death of a luger, curling's fashion faux pas, Bode Miller's redemption and the lack of winter weather in Vancouver are just a few of the storylines. So, what has caught your attention over the last couple weeks? Do the Olympics crowd out everything else going on? If not, what sports story do you think was missed in all the international, patriotic hoopla?