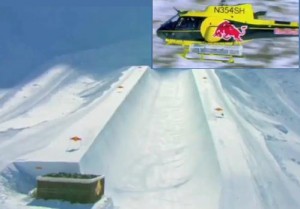 This week I have been busy finishing up trimester number 5 (out of 6) of my MBA, so I've only been intermittently paying attention to the Olympics, and I've been leaning heavily on those I follow on Twitter to keep me updated on which sponsors are activating in unique ways and which are practically non-existent.
One quick aside before I delve into specific sponsors… I think some Olympic sponsors will be hurt by NBC's decision to air the competitions in prime time in MST and PST. I personally know that after I've seen a result earlier in the day, I'm less likely to watch the entire broadcast,  if I choose to watch at all. Now that we're in the twitter age, networks will need to re-think their policy of playing everything in prime time. Also, I enjoyed watching uninterrupted footage of the snowboard halfpipe. Other events have been chopped up, competitors cut out, and drama 'manufactured.' I'd rather watch the full competition every time.
Ok, now on to the sponsors. Coke includes an environmentally-friendly aspect to their activation by encouraging Canadians to "adopt sustainable environmental practices." They will purchase carbon offsets to offset the carbon footprint from their operations at the Games as well as the torch run. This means their carbon emissions will have been reduced 100%. (Courtesy of Cokenews.ca). "Every piece of our Olympic marketing has a social and mobile component," says Katie Bayne, marketing chief for Coca-Cola North America.
Meanwhile, much has been made of Visa's decision to put 40% of their activation budget towards digital, quadrupling past spends. Their YouTube channel unveiled their Olympic spots before they were even shown on TV. These spots drive awareness and help reach their objectives, spelled out in this interesting document.
According to a USA Today article, GE is "using the Olympics as a 'launch pad' for it's biggest social media push." They have created a Twitter hashtag (#GEhealthy) and an account (@gehealthy) with the bio of: A shared commitment to creating better health for more people . Together. With only 184 followers, it remains to be seen if this push will be fruitful for them.
One company who seems to really get it is Red Bull. On Tuesday night, NBC showed a segment about Shaun White and his secret halfpipe. The segment really reinforced why Red Bull is the perfect sponsor for the halfpipe competition. They didn't just slap their logo on one of White's boards, they instead found a way to help him achieve his goals, thereby making the partnership valuable from both perspectives.
I thought the remark that best summed up what these Olympic sponsors should strive for was said by Mark Pritchard, CEO of Proctor & Gamble: "So what really makes the difference? The idea. When the idea is good, people flock to it and build on it."
There is still a significant amount of time left, and many amazing Olympic moments that are sure to occur. What sponsor(s) are you most looking forward to stepping up to the challenge?