Maintaining a Relationship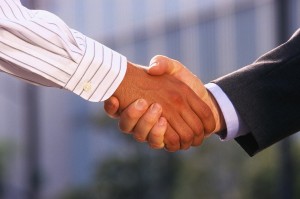 Quick post for you all on this Monday morning, but it's an important one. I wanted to share with you a letter that I recently received from the salesperson who sold me my car:
Dear Russell,
Hello!  I hope you do not mind my staying in touch with you!  It has been about six months since you purchased your new vehicle and I just want you to know I am here, at your service.
I hope you will give me a call any time you, your family or your friends have any automotive needs or questions.  I am here to help.  Remember, my commitment is to be of service to you.
Sincerely,
— HIS NAME HERE —
— HIS COMPANY —
— HIS PHONE & EMAIL —
There's nothing fancy here, no sales pitches or angles. Just a simple message to say hello and see if there's anything I need. Yes, there is a subtle reference to potential referrals, but that's an important part of sales, and most of the time, people do need a little prodding before they'd refer a personal contact.
To me, a letter like this is a critical component on maintaining a valuable relationship with your customers, and this can easily be applied by sales and service staff for any sports organization. You don't always need a reason to reach out to your season ticket holders. Sometimes just saying hello is enough to make them feel valued and important. It's also a great way to casually remind them about your product, and that alone can lead to incremental sales and increased customer lifetime value at practically no cost to you.