Offer Something Fun Everyday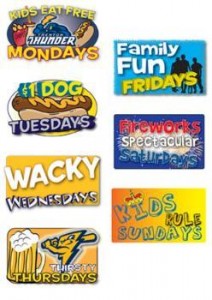 One of the things I love about minor league sports is that they have so much freedom to try different things, and ultimately, all their promotions revolve around creating a fun atmosphere for their customers. They realize that they have a very wide spectrum of customers, from the local die-hard baseball fans to families looking for affordable entertainment. For many, minor league sports are the only alternative for those that want to attend live sporting events, but cannot afford the prices that come with tickets to major league games.
Here is a great example that I just stumbled upon from the Trenton Thunder, one of the local minor league teams here in New Jersey. They decided well before the season starts that they want to have something special to offer on any given day of the week, so why not let everyone know about it now and get their fans excited about what days they want to come to the ballpark. Their plans breaks down as such:
Kids Eat Free Mondays – great for bring families out to the game
$1 Dog Tuesdays – A favorite marketing tactic for any cost-conscious buyers
Wacky Wednesdays – Theme nights designed for those that want more than just baseball entertainment when they come to a game
Thirsty Thursdays – Beer specials and fireworks, who doesn't enjoy that?
Family Fun Fridays – Giveaways and fireworks, again geared toward family consumers, but without any discounting involved
Fireworks Spectacular Saturdays – Another way to generate excitement for the less baseball-obsessive customers (who would come to games anyway)
Kids Rule Sundays – Giveaways, youth entertainers, opportunity for kids to run the bases, and a free ticket incentive for Kids Club members (which can boost sales of their $15 kids membership club
This is an excellent mix of tactics that should help the team reach a wide customer base beyond the team's core fan base. In addition, all of these promotions can be successful individually , but without a schedule, it is much more challenging for the team to try and promote each separate event or offer. By taking this approach, the Thunder can really plan our their marketing efforts for the season knowing that each of these offers occurs on a consistent schedule.