2010: A Year in (P)Review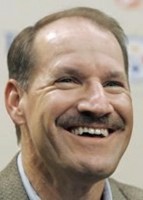 Anyone can write a year in a review about events that have already happened. I wanted a little more of a challenge, so to start off the year with a little fun, I present to you the 2010 year in (p)review.
January 7 – Bill Cowher accepts the head coaching position for the Buffalo Bills (this will be important later in the year).
January 18 – Brett Favre retires (again) after the Vikings are knocked out in the Divisional round by the Arizona Cardinals.
February 13 – The US Speedskating team takes Gold-Silver-Bronze in the Men's 5000 meter race, and Stephen Colbert is hailed as a hero. Skin-tight speedskating suits with 'Colbert Nation' imprinted on the thigh become the highest-selling Olympic merchandise in the U.S.
March 29 – Tiger Woods makes his first appearance on a golf course since the infamous one-car accident in a final tune-up to The Masters. He is peppered with questions but continues to maintain his silence about all personal matters. The next week he takes out his pent-up frustration out on Augusta National, winning the Masters in 1997-like fashion by 10 over former good buddy, recently-rejuvenated Jesper Parnevik. The southern gentlemen in Georgia take it easy on Tiger, but he really hears it from the fans as he wins the  U.S. Open in Pebble Beach in June.
May 31 – Roger Federer shows he isn't content just to hold the record for Grand Slam victories, he wants to put some distance between himself and Pete Sampras. He adds to his total by winning the French Open at Roland Garros, defeating Andy Roddick in four sets.
June – The United States Men's Soccer Team makes good on the U.S. Soccer Federations Project 2010 when they make a spectacular run through Group C, tying England 1-1 and defeating Algeria and Slovenia by matching 2-1 scores. They advance on penalty kicks after a 2-2 tie in the quarterfinals, then see a rematch of the 2002 quarter-finals when they face Germany. This time, though, the U.S. emerges victorious by a 2-0 score. Finally, the Yanks face Brazil in the finals, and set off a national frenzy when they sneak by the yellow, blue and green 1-0.
July 30 – Reminiscent of Kevin Costner in 'For Love of the Game', Pedro Martinez pitches a perfect game against his former team, the Boston Red Sox, in Fenway Park, after being picked up by the Detroit Tigers as a free agent during the off-season.
August 23 – Brett Favre comes out of retirement for a third time after being signed by the Detroit Lions. Matthew Stafford is injured in pre-season training camp, paving the way for Favre to be signed. At the ensuing press conference, Favre states that he's had a long-standing desire to play for every team in the NFC North, basically telling Kyle Orton to watch his back in 2011.
September 4 – In a total reversal from his December press conference, Urban Meyer is on the sidelines as the head coach for the University of Florida's football game against Miami of Ohio. After the game, he says he got plenty of family time in the three weeks he took off after the Gators' Sugar Bowl win over Cincinnati.
November 21 – Dale Earnhardt, Jr. wins his first NASCAR Sprint Cup championship in the last race of the season, edging out four-time winner Jimmie Johnson by a nose.
December 26 – The Buffalo Bills, led by Cowher, defeat the New England Patriots to finish 2010 with a 15-0 record. Only a game against the New York Jets stand between them and a perfect regular-season record.
So there you have it. 2010 is going to be an amazing year in sports, so invest in that satellite sports package, make sure your DVR has plenty of room on it, and get ready for another entertaining ride!