How To: Make SBJ's Most Influential List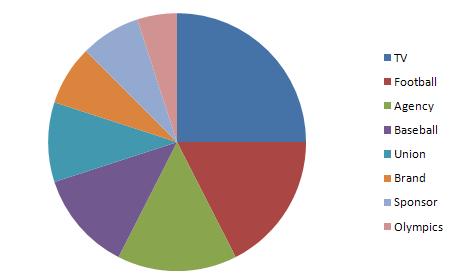 Last week, the Sports Business Journal released its annual '50 Most Influential' list, naming the top 50+ influential people in the sports industry. While there was a bit of an international bend to the list (Jacques Rogge, President of the International Olympic Committee, claimed the top spot), it was dominated by figures that most Americans will recognize. And in the spirit of giving, I present to you the top five ways to make the SBJ's most influential list:
1. Become the commissioner of a professional sports league: Roger Goodell (2, NFL), David Stern (4, NBA), Bud Selig (7, MLB), Gary Bettman (12, NHL), Tim Finchem (18, PGA), and Don Garber (33, MLS) all made the list by being their sports' head honcho. While I bet it feels good to be king, all of these men have taken shots for their decisions over the course of 2009, and some are feeling the heat for the decisions of others (Mr. Finchem, I'm referring to you). Regardless, becoming the Commish is a pretty good way to gain influence (but we can't guarantee that people will like you).
2.  Head up a major television conglomerate:  George Bodenheimer (3, ESPN/ABC Sports), Brian Roberts & Steve Burke (5, Comcast), Dick Ebersol (6, NBC Universal), Chase Carey & David Hill (8, Fox/News Corp.), Sean McManus (10, CBS Sports), John Skipper & Sean Bratches (19, ESPN), David Levy (21, TBS), Jeff Shell (29, Comcast), Steve Bornstein (31, NFL Network), and Tracy Dolgin (50, YES Network) all saw their name in print because, as we've been reminded of many times in the past 12 months, television is big business for sports. Rights fees, retrans fees, carriage fees… it's harder to grasp than the legalese on that credit card application, but for those who are schooled in the language of TV contracts, chances are good that they'll hold some sway over the sports industry.
3.  Work your way up at an agency (or start your own):  George Pyne (26, IMG), Casey Wasserman (32, Wasserman Media Group), Michael Levine & Howard Nuchow (37, CAA Sports), Scott Boras (38, The Scott Boras Group), Tom Condon & Ben Dogra (44, CAA Football), Phil de Picciotto & Rick Dudley (47, Octagon). Whether you're representing the athletes in major sponsorship deals or representing major companies in their deals with sports properties, heading up an agency guarantees people will pick up the phone when you call.
4.  Own an NFL team:  Jerry Jones (9, Dallas Cowboys), Robert Kraft (13, New England Patriots), Pat Bowlen (35, Denver Broncos). Some joke that Kraft has as much power as Goodell. Regardless, these men have a strong voice when it comes to decisions that swing millions of dollars… from players to owners, from small-market teams to large-market teams (or vice-versa).
This might not be a road map for your career, but it does give you an idea where to concentrate your energies if you want to become one of the 50 most influential people in sports business. Oh, one final note:
5.  Be a man:  Only one person on the list of 50+ can wear a skirt to work without getting sidelong glances. Katie Bayne (46, Coca-Cola) was the sole female on the list this year. Hopefully, this is a trend we'll see changing over the next few years as more women advance to senior positions in the industry.