Holiday Gifts They Really Want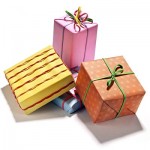 Yesterday I received an email from the Arizona State Athletic Department, announcing that all students would be given free admission for the next three home games. That got me to thinking about what other teams were offering to their fans this holiday seasons.
In Miami: You get to take your pick, the Panthers (up to 7 games, a puck and free parking), the Marlins (one ticket to each home series in 2010) and the Heat (too complicated to even get into here).
In Cleveland: The Cavaliers have a holiday ticket plan that includes two Cavaliers games and a Lake Erie Monsters game (hockey) with the choice of either the Harlem Globetrotters, Disney on Ice or a Mid-American Conference (MAC) tournament game. The Plan can cost as little as $79 and you get a FREE Cavs basketball. Not too shabby for anyone within shooting distance of Lake Erie.
In Atlanta: The Falcons' Holiday Package includes two tickets to the Buffalo Bills game on December 27 (who wouldn't want to see the Bills play? I would!!) and a $50 gift certificate to hhgregg.com (an online appliance and electronics store). Package of two tickets starts at $98.
In Los Angeles: Chivas USA is offering tickets to four games for as low as $45. The interesting thing about this one is that they are offering tickets to games that traditionally sell well. Games include the home opener versus the Colorado Rapids and match-ups with in-town rivals the LA Galaxy, the Chicago Fire (with popular Hispanic player Cuauhtemoc Blanco) and defending MLS Champions Real Salt Lake.
In Denver: The Colorado Avalanche's Holiday Pack includes four games (one the day after Christmas, two in January and one in March), an autographed puck and a team flag. Prices start at $89, and the pack also comes with playoff ticket priority.
These are just a few of the offerings available out there right now. If your favorite team or city isn't listed, I can almost guarantee you that your team has some kind of holiday promotion available. Even if you're team doesn't play until the spring, there's still a good chance that they are offering some kind of deal. And if you work for a team and you aren't offering a special holiday package, use the ideas above as examples and get to work! Happy Holidays!