Sports and Social Media Predictions in 2010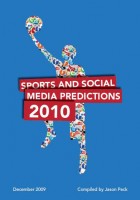 Jason Peck (www.jasonfpeck.com) has put together an excellent e-book titled "Sports and Social Media Predictions 2010." Jason reached out to several sports professionals and asked them a simple question: "What are your thoughts and predictions for sports and social media in 2010?" The answers provide incredible insight into the different ways that this aspect of the industry can grow and develop in the coming year.
Without giving too much away, here are a few quick quotes from the book:
Brian Gainor: "The smartest U.S. brands will look to benchmark the mobile marketing practices of our European and Asian counterparts, who are paving the way with some innovative campaigns."
Joe Favorito: "People have to get some kind of ROI on what is going into the development and the time that social media consumes, and as of today very few if any smart brands have figured out a way to monetize what they are spending."
Lewis Howes: "I predict we will see even more opportunities for sports fans to engage in real-time interactions."
Pat Coyle: "In these favorable conditions, 2010 could very well be the year in which we see some teams moving social media from the periphery to the center of their marketing strategies."
Rob Katz: "Moving forward, controlling the message means active participation and some level of transparency to allow deeper, more sustainable audience engagement."
This is just a small selection of what this e-book has to offer. I'm personally honored that Jason let me contribute to this project…you'll have to read it for yourself to see my thoughts and predictions!  I've included a copy of the e-book below that you can view here, or you can click the download link to get a PDF version. Great work by Jason, and I encourage everyone to download this today!