NASCAR's Newest Sensation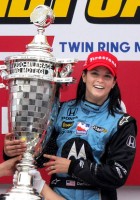 If you Google 'Danica Patrick NASCAR,' over 2 million handy links are at your fingertips. That's because two days ago Patrick finally confirmed what had long been suspected: she was ready to compete on NASCAR's second tier, the Nationwide Series. Her contract is with JR Motorsports, putting her under the same umbrella as Dale Earnhardt, Jr., Mark Martin and on occasion, Tony Stewart.
At a time when American car companies are struggling and NASCAR is feeling the pinch from cash-strapped sponsors, Patrick's announcement was a welcome shot in the arm. The GoDaddy.com spokeswoman has been a mainstay on the IndyCar Series, becoming the first woman to win an IndyCar race when she took the 2008 Indy Japan 300. Mainstream race fans may know her better as the woman with the highest finish ever at the Indy 500, a third place showing earlier this year, while non-fans know her from her commercials for GoDaddy.com, SportsCenter, or Boost Mobile.
Patrick has risen to stardom due to a combination of skill, luck and good looks. A photogenic brunette competing against a bunch of men on the IndyCar circuit, the pressure was on her to make good on her talent. Even before getting her first win in 2008, the marketing push was on. Now she'll be in the big leagues, at least for a few races a year. She'll compete full time on the IndyCar circuit, get her feet wet in at least one third-tier ARCA race, and then move up to the Nationwide Series. NASCAR marketers must be salivating, as they are assured a rise in media coverage for any closed-wheel race that she competes in.
The question is: Will interest in Patrick stick it out if she doesn't get an early win? Juan Pablo Montoya wasn't a consistent performer until his third year on the circuit. How much time will she be given to learn the nuances of these cars? They are much heavier and less responsive than the open-wheel cars that she's used to. Also, her competitors will have the extra incentive of not wanting to be beat by a girl.
In interviews over the last two days, Patrick has talked about this season as a learning experience and the 'next challenge.' What she should expect is plenty of bumps and being pushed into the wall. The other drivers will try to test her mettle and see if she can be rattled. And while NASCAR execs are raising a toast to an (unexpected?) boost to their bottom line, many race fans will take a 'wait and see' attitude. If they get bored in the meantime, there are those 2 million links to keep them occupied.