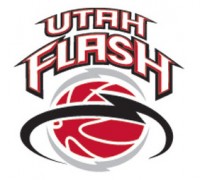 I saw a great story the other day about a failed promotion by the NBADL Utah Flash. Back in September, team owner Brandt Anderson had talked about hosting a game of 1-on-1 between Michael Jordan and Byron Russell at halftime of a Utah Flash game. The match would be flashback to their famous confrontation at the end of Game 6 of the 1998 NBA Finals, where Jordan hit the series-clinching shot over Russell. Anderson was going to offer $100,000 that the winner could donate to a charity of their choosing, and Russell was on board. However, Jordan declined the challenge so that seemed to be the end of it…at least temporarily.
Anderson ultimately decided to continue with this event.  He still promoted that the 1-on-1 match would occur at halftime of Monday's game and there were "Jordan sightings" around town that day. This led to over 7,500 fans attending that night's game, expecting to see this halftime match, but instead they ended up seeing Russell take on a Jordan lookalike. The crowd was outraged, and the team experienced a very vocal backlash. Anderson now regrets his decision to move forward with this stunt, and is trying to repair the damage with refunds and free tickets to future Flash games.
So what do we learn from an incident like this?
Viral and word-of-mouth marketing is very powerful! Anderson had all the makings of a great viral campaign, even "leaking" a video of "Jordan" eating at a local restaurant. However, his campaign came with a very specific expectation that he could not meet. If you build up that much buzz, you have to deliver on customer expectations.
Teams need to be more transparent when using publicity stunts to sell tickets. For example, last year the Philadelphia Phantoms hosted a game where David Akers and Andy Reid were going to do the ceremonial puck drop and sign autographs. However, through the language of the press release and marketing materials, it was pretty clear that instead of the Eagles' player and coach, it was going to be a fake Akers and Reid in attendance. The team ended up with the desired effect of generating buzz, but they also managed the fans' expectations and still had a successful promotion with a boost in attendance.
When customer expectations are not met, immediate action must be taken to try and resolve the problem. Anderson is doing just that through his immediate apology and offer of refunds and free tickets. The only question will be whether fans feel that this service recovery is enough to compensate them for their failed promise. There may be some lingering skepticism for casual fans that were in attendance to purchase tickets to a future game.