Princeton Sports Symposium on Friday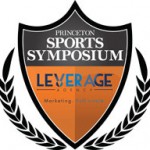 The 4th annual Princeton Sports Symposium takes place this Friday, December 4 at Princeton University. I attended this event last year, and really enjoyed all of the panels as well as the opportunity to network with the presenters and other attendees.  You can click here to read some of my recaps from last year's symposium.
This year, the agenda (PDF) features over 60 speakers across 11 different panel discussions. Visit www.sportssymposium.org for more information. I will be in attendance again this year, so please make sure to say hello if you're there. Looking forward to meeting some of you on Friday!
——————–
2009 Princeton Sports Symposium sponsored by Leverage Agency
Friday, December 4 from 10am-6pm
Friend Center, Princeton University, Princeton, NJ
You can register at www.sportssymposium.org. Space is limited. The registration fee for non-students is $50, and includes continental breakfast, lunch and reception. Please email info@sportssymposium.org with any questions you may have. You can also connect with the symposium on Twitter (twitter.com/sportssymposium) or Facebook (www.facebook.com/sportssymposium).