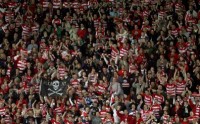 It's one of the most frustrating things about sports… highly-paid players who don't get the job done. Who hasn't thought after a loss 'I think our team could have played harder' or 'if only that player hadn't given up in the 4th quarter.' Well, a group of fans in England are going to be reimbursed after having that experience.
Last weekend, Wigan Athletic suffered a horrifying 9 – 1 loss at the hands of Tottenham Hotspur. Hundreds of Wigan fans had made the trip to see their team play, only to watch them concede eight second-half goals. In an almost unprecedented move, the Wigan players have offered to reimburse any Wigan fans who purchased a ticket at the stadium that day.
With player salaries in the English Premier League being well above those in Major League Soccer, no one should worry about the Wigan players going hungry. The gesture, however, is one to take note of. These are professional players who realize that they did not do their job, and that their 'bad day at the office' cost hard-working people money that in this recession, isn't easily parted with. It is refreshing to see a group of professional athlete take their responsibility seriously.
Their captain Mario Melchiot was quoted as saying "We feel that as a group of players we badly let down our supporters yesterday (Sunday), and this is a gesture we have to make and pay them back for their tremendous loyalty." Now, no one gets to choose whether they see Kobe's 81-point game or Kevin Garnett's 14-point one (I personally attended the latter), but the recognition by these players that the fans loyalty should not be taken lightly is a lesson that should be learned by all sports business professionals, especially in this economic climate.
We saw a whiff of this last month when wide receiver Chad Ochocinco of the Cincinnati Bengals teamed up with Motorola to purchase the remaining 1,200 tickets to his teams' home game against the Houston Texans. If those tickets hadn't been sold, the game would have been blacked out in the Cincinnati area  and many die-hard Bengals fans wouldn't have been able to see their team play. In these especially hard times, it seems especially important to find a way to make sure fans stay connected to their favorite teams, even if they can't afford to go to the games. Black-outs are just about the exact opposite of that philosophy, as it removes an important touch-point between fans and their team.
So, what can teams do? Well, here's an example of what NOT to do. Don't sue your season ticket holders who have legitimate hardships. The Washington Redskins opened up a huge flap by suing season ticket holders who asked to get out of their contracts. Instead of working out a payment plan, offering to try to re-sell the tickets, or just excusing the fans from their contracts, the Redskins filed lawsuits. Lifelong fans not only lost their coveted tickets, but lost faith in their team.
In these tough times, teams need to continually be on the lookout as to how they can provide better service to their fans. Refunding them after a particularly brutal loss might not be the way to go, but there are certainly opportunities for teams to make their fans feel appreciated. Preventing black-outs, making affordable tickets available, and offering free access to select team events are just a few ways to keep fans connected and ultimately generate greater lifetime value and fan loyalty.