What Does Wie's Win Mean for the LPGA?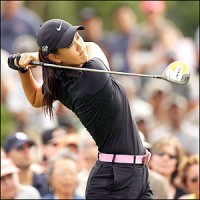 Michelle Wie won her first LPGA tournament this past Sunday when she outlasted Paula Creamer to claim the Lorena Ochoa Invitational in Guadalajara, Mexico. I'm sure I wasn't the only one who was shocked to read in subsequent news articles that she is only 20 years old. She fell out of the limelight so long ago that I had assumed she was completely washed up. The only time I recently remember hearing her name was when she missed a cut.
Just a few days ago, that all changed. The golfer who has raked in approximately $50 million in endorsements from the likes of Nike and Sony finally cashed the kind of check she's been chasing all these years. For someone who turned pro just days before her 16th birthday and played her first LPGA event at the age of 12, the pressure to win must have been enormous. She faced down that pressure, both internal and external, to grab the two-stroke win with an up-and-down from a green-side bunker.
For her endorsers, this win was a long time coming. Nike was prominently displayed on her clothes and hat after sticking with her since day one. Sony, on the other hand, may be kicking themselves. They dropped Wie from her $5 million a year contract back in April.
For the embattled LPGA, this win couldn't have come at a better time. In July, commisioner Carolyn Bivens resigned amid growing concerns about the LPGA's viability in this difficult economy. At the end of October, former marketing executive Michael Whan came on board to re-establish broken ties with sponsors, and win back the trust of the players. With one eight-inch putt, Michelle Wie put the LPGA on the front pages of newspapers and splashed across countless sports sites and blogs.
Does Wie's win 'save' the LPGA? Not necessarily, and she's not yet up to Tiger Woods' standards, but the trophy does give the struggling tour a much-needed boost. It was extremely gratuitous that the win came just days before the LPGA announced their 2010 schedule which includes 24 events in 10 countries. Just 17 of those events have sponsors though, down from 34 in 2008. So having one of the most recognizable faces on tour win her first tournament certainly perked up the LPGA brass and Wie being in contention affected more than just her trophy case. According to Bloomberg.com, page views for LPGA.com rose 84% over 2008 and numbers for the final round doubled the numbers of the two previous days.
In the past, Wie was known for trying to compete against the men. She has missed eight cuts on the PGA tour and just joined the LPGA full-time this season. After winning the Lorena Ochoa Invitational, Wie said "I'm motivated to practice harder and play better and win more." Those words must be music to the ears of executives and sponsors of the LPGA tour. After all, they've been waiting for this day for a long, long time.