"Never Make the First Offer" Excerpt and Contest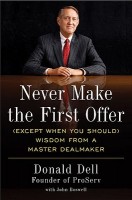 Today we have a special guest post and contest for everyone. Donald Dell, Founder of ProServ and President of Blue Entertainment Sports Television (BEST) recently released his new book, "Never Make the First Offer (Except When You Should) – Wisdom from a Master Dealmaker." You can learn more about the book and watch video clips of interviews with Donald by visiting www.donalddell.com.
Donald has graciously provided an excerpt from the book below, and we've put together a contest to celebrate the book release. We are giving away three copies of his book, and there are three different ways to win. You can…
Add a comment on this post (and make it relevant – unrelated comments will be deleted)
Tweet this post clicking the "retweet" button at the top left
Leave a comment on The Business of Sports Facebook Fan Page regarding this post
One lucky winner will be randomly chosen from each of the three different audiences, and you can enter via all three methods (only one entry per person will count for each method of entry). The contest will run from now until Sunday at 12pm EST. Good luck, and enjoy the book excerpt!
Look at the Big Picture
The biggest problem with accurately reading situations is to understand that you are part of the problem. In other words, since you are inside the situation yourself, it is hard to look at it purely objectively. Sometimes it can be really helpful to take a moment to step back and look at the big picture. How are you progressing in terms of reaching your objectives? What is standing in the way? What is your part in it? What can you do about it?
Even though this anecdote isn't strictly about business, I want to tell a story that illustrates this point of looking past the minutiae at the larger picture. In fact, I want to tell it because, first, many of the lessons in this book can and should be applied to personal as well as professional matters, and, second, it has never been told before. Had it come out when it took place, twenty-five years ago, it would have made front-page headlines all over the world and probably gotten Bill Talbert and me ostracized from tennis. It is the story of how I helped to salvage the finals of the 1983 U.S. Open in a match between Ivan Lendl and Jimmy Connors.
During practice on the day before the finals, Connors ended up with a giant blood blister between two of his toes. It was like a stone bruise – really big and really painful. On the morning of the match Jimmy tried to practice, but not only couldn't he run, he could barely walk. Shortly thereafter I got a call from Jimmy's mother, Gloria, who said, "Jimbo can't play. Default him. He's out."
When I heard this, I thought: "Jimmy's thirty-two years old. He may never get this opportunity again. CBS and the USTA are going to go ballistic (not to mention the tennis public) if the U.S. Open finals doesn't happen." The growth of tennis had started to plateau, and I could see this non-final really hurting the game. Once I stepped back and considered all the options, I felt I had to do something.
Through a friend I got in touch with the New York Jets' team trainer, told him the situation, and asked him if there was anything he could do to relieve the pain. "Sure," he said. "I could shoot him up with Xylocaine," which is like a souped-up version of novocaine. This would mean Jimmy wouldn't be able to feel the toes that were in pain.
So I asked my Jets trainer friend, "How would you like to attend the finals of the U.S. Open?"
Now I had to persuade Jimmy to go along with the plan. I walked into the locker room. There were about five people surrounding Jimmy – including his wife, Patti, his bodyguard, and one of our agents – but fortunately, not his mother. I said, "Give me a few minutes alone with Jimmy."
Once we were alone, I said, "What's the story?"
"I can't play," he said. "I've got to default. Even if I could limp around, I'd rather not play than have Lendl beat me."
"What if we could fix your foot so you could play?" I said, and then I told him about the trainer for the Jets.
He was still unsure, so I said, "Let's be honest here, Jimmy. You're thirty-two years old, and you have a shot at winning your fifth Open. I know you think you'll be back, but we both know there's a good chance you may never get to the finals again."
He said, "Well . . . if you handle my mother . . . "
I said, "I'll get the trainer."
The trainer told us the shot would last about an hour and a half, so I thought, "Damn. I'm going to have to find some way to pull Jimmy off the court in the middle of the match so the doctor can shoot his foot up again."
I then went to the tournament chairman, Bill Talbert, and told him what was going on. "I can't authorize that," he said.
I said, "Well, you have two choices. You can let me fix his foot, or he'll default and you'll have no tournament final."
Talbert said, "I never heard about this."
Under the tournament rules, each player can leave the court once at any time for a bathroom break, so I went to the tournament supervisor and told him, "I'm going to take Connors off the court at some point for a bathroom break. I don't want any interference. I don't want anyone bothering him. I also want the biggest policeman you can find sitting in a chair right out front of that bathroom door. And when Jimmy goes in, I want that cop to block the door so no one can get in there."
He wasn't too happy about this, but Talbert was standing right there, so he nodded.
This was in the old stadium, the Louis Armstrong. One of the bathrooms is located directly across the court, slightly to the left. I told the trainer I'd give him a hand signal when it was time for him to go into the bathroom . . . and hide.
Finally the match started, and I began to wonder, "If this goes more than three hours, we're dead." Jimmy won the first set 6–3 but promptly lost the second set 6–7.
Now the score was 2–1 in the third, and Jimmy had started to limp noticeably. I signaled the trainer.
Jimmy called for a bathroom break and started to walk across the court. Meanwhile, Ivan Lendl, who is very smart and very cagey, was the only one in the stadium who figured it out. He started screaming to the tournament supervisor, "Watch his foot! Don't let anyone touch his foot! Don't let him out of your sight!" But no one paid any attention— or, more likely, the officials decided to ignore him. If they chose somebody to accompany Jimmy into the bathroom, we'd be out of luck.
Connors came back to win the third set and the fourth, and made tennis history by becoming the only man at that time to have won the U.S. Open five times. (Pete Sampras would later repeat the feat.)
Afterward the official doctor for the Open, Dr. Irving Glick, came up to me and said, "Donald, I don't know what you did, and I don't want to know."
I said, "If that's the way you feel, fine. But I can live with what I did."
At the press conference later, the first question to Jimmy was, "Why did you have to leave the court?"
"I had a horrible attack of diarrhea," Jimmy said, and that became the official story that appeared the next day in the New York Times and the Washington Post and was told on The Late Show with David Letterman.