From the Vault: Using Bands in Pro Sports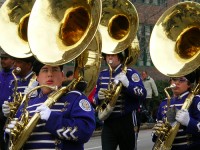 As time goes on, there is more and more content buried deep in the archives of this blog, so every now and then, I like to reach into "the vault" and revisit an old post.
Today, I'm sharing a post I wrote last year on making marching bands part of the professional sports experience. The reason I thought back to this post was because of last night's ESPN30 for 30 documentary on the old Baltimore Colts marching band called "The Band That Wouldn't Die." The film did an excellent job talking about the Colts' late night move from Baltimore to Indianapolis, and how the team's marching band continued to play on for over a decade until finally the Ravens brought football back to Baltimore.
——————–
I will admit right up front that I am biased, since I was part of the marching and pep bands while in college, but having a live marching band and pep band at college sporting events is a valuable part of the game-day experience. This includes pregame shows (think of the tuba player dotting the "i" in the Ohio State pregame), halftime shows (some southern schools have very elaborate and impressive performances), and timeout performances during both football and basketball games. I am a firm believer that a live band can generate as much if not more enthusiasm from the fans than any canned music can.
On that note, I wanted to mention two professional teams that make use of a live band, the Washington Redskins and the Baltimore Ravens. Here are a couple of clips (note – the audio quality is not that great, since these are fan recordings):