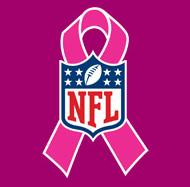 One of the things I love most about sports is how athletes, teams and leagues can use the power of their fan affinity for a good cause. This weekend, the NFL did a tremendous job with their "A Crucial Catch" campaign.
If you watched even two minutes of football this weekend, you saw pink everywhere on the screen: jersey patches, helmet stickers, cleats, towels, gloves, wristbands, cheerleader uniforms and more (check out this photo gallery for some great pictures). The announcers constantly mentioned the league's pink initiative and the link to www.nfl.com/pink was shown regularly throughout every game. In fact, right now the entire NFL.com website has a pink background. I like this integrated, multi-channel approach to maximize the impact of this campaign.
The pure value of the media exposure generated by this campaign has to be tremendous, in the hundreds of thousands if not more. All of this exposure goes a long way towards generating breast cancer awareness and encouraging annual screenings.
Major League Baseball also deserves a lot of credit for their own breast cancer awareness programs, which is highlighted every year by the use of pink bats by many high-profile players on Mothers Day. I would love to see similar league-wide campaigns from the NBA and NHL this year.
Update: If you are interested in supporting the NFL's breast cancer awareness program, you can contribute by bidding on any of the authentic pink items from Sunday's games that are being auctioned here. All profits will go to benefit the American Cancer Society.