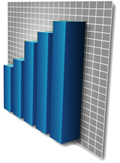 I just heard on the radio that the NBA is going to release a league-wide Twitter policy this week. This isn't very surprising, since other sports organizations, most notably the NFL and ESPN have released similar policies in the past month. In addition, the latest story involving the Texas Tech football program has unfortunately showcased some of the pitfalls associated with Twitter.
Over the last couple of weeks, I've been running a poll to see what you think of the NFL's social media policy, and now is a good time to look at the results!
Do you agree with the NFL's policy to keep players from using social media during games?
Yes (79%, 69 Votes)
No (21%, 18 Votes)
Total Voters: 87
Almost 80% of the participants agreed with the policy. I'm really impressed by this number. At first, it seemed like the initial reaction to the policy was quite negative, with fans and social media advocates disappointed as these "control measures." However, it seems like the readers here recognize that even with social media tools like Twitter, putting some policies in place will actually provide a benefit.
I do want to add one more point though. If a league is going to implement a Twitter policy, then I think they should also build and execute a Twitter strategy. Hopefully this is already the case for both the NBA and the NFL, but I would like to see their social media programs and strategies get as much attention as their policies and guidelines.
If you have an idea for a new poll, please use the Contact Us link at the top of the page to send me your suggestion!