Dallas Cowboys Party Pass Problems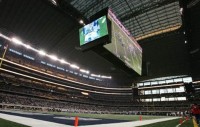 By now, everyone knows about how the Dallas Cowboys sold about 30,000 "Party Pass" tickets for their new stadium home opener against the Giants this past Sunday night.  Combining the party pass tickets with the rest of the seats sold for that game led to an all-time NFL regular season attendance record of just over 105,000.
However, you've probably also seen some of the fallout from this strategy, which got some extra exposure via Deadspin yesterday.  To quickly summarize, the standing-room party pass tickets (sold for $29 each) were very popular but did not guarantee access inside the stadium, something that was not very clear at the time of purchase. A large majority of these fans were forced to stay outside the stadium and watch the game on large screens from the plaza area.
In addition, those customers that did get into the stadium found the standing rooms areas to be overcrowded and filled with pushy fans trying to shove their way to a good view. Finally, the overcrowding also made the experience around the stadium less pleasant for the regular ticket buying customers, many of which paid a high price for their seats.  Take a look at this video to get some idea of the crowding:
Since then, the Cowboys have announce that they may limit the number of party pass tickets sold, probably to about 10,000 per game, in an attempt to avoid this situation at their future games. However, I want to look at this a little differently. Clearly there was a nice demand for these tickets, even if that demand drops after opening night, and the Cowboys want to find a way to monetize this demand.  Also, having almost 1/3 of your game-day inventory at a single price point is probably not the best way to reach customers with varying price sensitivities.  So why don't they create two versions of this ticket?  One version would be for $25-35 and guarantees actual access to the standing room concourses inside the stadium.  There would be a capacity limit on these tickets that makes sense based on the physical space being used, which will ensure a better experience for "seated" ticket buyers.  The other version would be for $10-15 and provides access to the outside plazas that show the game on the big screens and offer other on-site entertainment. The Cowboys have such a large, passionate fan base that there may be a market for these "tickets" even without being in the stadium.  What do you think?