Recap of US Open Sponsor Activation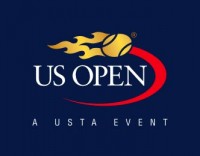 The US Open receives a lot of credit for some of their creative and engaging sponsor activation opportunities. Unfortunately, I wasn't able to attend the event myself to write a recap, but the good folks at PartnershipActivation.com and SponsorPitch.com have let me "borrow" some of their great recaps to share with you here.
The US Open Smash Zone – The US Open worked with Synergy Events to create this incredible fan engagement experience at the USTA Indoor Training Center. There were multiple opportunities to play different style tennis games, including the American Express "Challenge a Pro" green screen exhibit that puts you into a "virtual" match with a professional player. Check out this video example below, and read the full write-up at PartnershipActivation.com:
Mobile Engagement from Chase and American Express (via SponsorPitch.com) – Chase had a simple but effective text-to-win program where fans could enter via a mobile text message to win free tickets. Meanwhile, American Express had both a branded iPhone application that provided live scores and American Express Radio Live that let fans listen to live commentary while watching the matches.
Mass-Mutual Half a Racket Game (via SponsorPitch.com) – Attendees could participate in this game, playing with literally half of an actual tennis racket. Seems a bit frustrating, but it emphasizes the point of how difficult it is to manage with half of anything, such as the income most people get while on disability, thus providing a unique way for Mass Mutual to promote their supplemental disability insurance.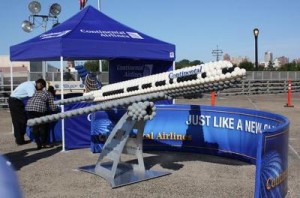 Creative Brand Elements from Continental and Others (via PartnershipActivation.com) – This airplane built out of tennis balls that was part of the Continental booth definitely help catch people's attention. There were several other creative and effective branding displays, such as the Heineken Pub, a giant Lexus tennis ball and a truly "oversized" Wilson racket. Visit PartnershipActivation.com for more great pictures.
The Basic Booth Approach (via SponsorPitch.com) – Some companies, like SpongeTech and Oikos Yogurt, took the basic route of product display and free samples. As long as you have a good location for these booths, this can still be a very effective way to connect with potential customers at the event.
Thanks again to the guys at PartnershipActivation and SponsorPitch for sharing their great US Open activation content.