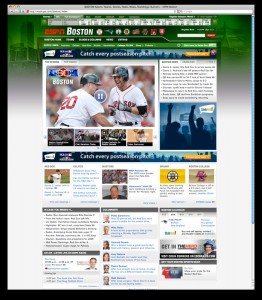 Today ESPN officially launched their second regional sports website, ESPNBoston.com, timed perfectly with the first New England Patriots game of the year on Monday Night Football (another ESPN production). Their first regional effort, ESPNChicago.com, went online back in April and has already become a top site for Chicago sports fans, reaching over 700,000 visitors per month. The company has plans to release similar sites for New York, Dallas and Los Angeles over the next few months.
ESPN realized that even though they offer a tremendous amount of sports content on their primary ESPN.com platform, fans in these hotbeds of sports activity are constantly seeking out more in-depth content for the teams in their market. So why not leverage the power of their brand (arguably the most powerful and recognizable brand in sports) and dig deeper into these individual markets? Because of their global scale, they have more resources available to them than even the strongest regional content provider.  They've also attacked their regional expansion in a very logical manner, starting with cities where they already have an established core of writers and contributors that will generate immediate interest.
It will be interesting to see how the ESPN regional websites grow and what their total impact is on existing local content providers. In the past, ESPN has convinced many of the best local writers to join their national platform, and I'm sure they'll pursue similar efforts to try and get the best content on these new platforms. This is also another hurdle for local newspapers to deal with. For some readers, local sports coverage is the only reason to still get the paper, but that reason is quickly fading away.