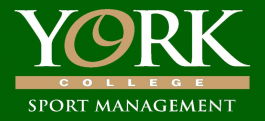 Today's post is courtesy of guest blogger Tim Newman, Associate Professor of Sport Management at York College.
I started my career in the sports industry as a certified athletic trainer.  While earning my Master's degree in Athletic Training at the University of Virginia, Joe Gieck, long-time Head Athletic Trainer said something I will never forget. In his thick southern accent, Joe said, "You need to learn peopling before you learn athletic training." This very simple advice changed the way in which I approached the profession.
The fact of the matter is that the sports industry is about people. It is about the relationships that are built in order to help individuals and organizations meet the wants and needs of their consumers.  As a professor, I constantly talk about networking and building relationships. I also try and impress upon students that it is not a one-way street. Students seem to always ask other people to help them but rarely ask how they can help others. David Silverman from HarvardBusiness.org wrote an excellent piece about this on August 31st called "How to Ask a (Near) Stranger for a Favor." This is just one example of learning "peopling" before learning the sport industry.
The sport industry is no different than any other industry in terms of dealing with people.  Everyone encounters all types of people…some you like, some you don't like; some you get along with, some your personality conflicts with…regardless, professionals need to be able to relate and talk to everyone. Whether it is the angry mother whose son didn't get a piece of birthday cake on the party deck or it is the out-of-town family that traveled a long distance only to have the game rained out.  The individual who learned "peopling" will be able to diffuse these situations and will ensure that customers come back again and again.
Here are some tips that I share with my students:
Be genuine – show people you care
Be honest – people want the truth and not false promises or lip service
Be kind – remember to do the little things (being polite and respectful, saying hello and smiling makes a big difference)
Listen to others – don't interrupt people while they are talking, respond to their concerns and handle their issues
Go the extra mile – if you are asked a question and you don't know the answer, find it out and get back to them with something helpful
Follow up –  after you meet someone contact them via a follow up email/letter/phone call (especially after an interview)
Be proactive – look for ways that you can make things easier for others instead of simply focusing on how they can help you
Do it right the first time – it is much easier than trying to fix a problem after-the-fact
Generally speaking it all comes back to the things you were taught when you were young…put yourself in the shoes of the other person and treat them way you want to be treated. Make "peopling" your priority and the rest will fall into place!
Dr. Tim Newman is an Associate Professor of Sport Management at York College of Pennsylvania.  His interests include curriculum writing/design, experiential learning, sport marketing and social media. Click here to learn more about the Sport Management program at York College.