Promotions from the Pac-10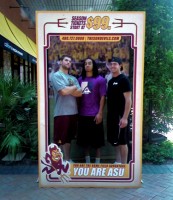 In the past few days, I've seen a couple of great promotions from schools in the Pac-10 that I'd like to share:
Arizona State – You Are ASU: The Sun Devils created a couple of life-sized ASU trading card cutouts that can be found in prime locations around the Tempe area.  They're encouraging fans to get their picture taken in the card cutout and send a Twitpic to their official Twitter account (@SparkyArizonaSt), and the picture that shows "the most Sun Devil Pride" will win free lower level tickets.  Great way to combine offline and online marketing.
Cal – SFGate.com Takeover: If you visited the San Francisco Chronicle website (sfgate.com/sports) in the past couple of days, you would have seen the entire site done up with full Cal spirit, from background imagery to advertisements and content. Since this is one of the most popular sites for sports content in the Bay Area, this is a great tactic to make a strong, concentrated impact.  Here's a picture of what the site looked like during the takeover (thanks to @CalAthletics sending this along).
Arizona – Free Wildcats Ringtone: This offer is prominently displayed on the Arizona Wildcats athletics home page, encouraging fans to show their school spirit and download the official Wildcats ringtone. While getting the ringtone distributed among the school's fans is great, the more valuable part of this promotion is the data collection opportunity that it provides.
Washington – Go Purple. Be Gold: The Huskies website starts you off with a nice new video, produced by row27 Studios. Last year wasn't a great season for Washington, so the video appropriately focuses on hard work, practice and improvement, and ends with a call-to-action promoting their new 4-game plan.
New Tier B-Line: Multiple Pac-10 schools, including Stanford and Washington State, are offering a desktop product from New Tier Communications called the "B-Line." It's a new version of their desktop communicator that lets the schools push content out directly to the users' computers, such as news alerts, video and special ticket offers.