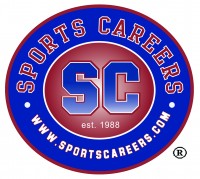 We have a new weekly column to share here, courtesy of our friends at SportsCareers.com.  Every Saturday, we'll feature a new career tips from Mark Tudi, Founder and President of Sports Careers, along with a few of the top job postings that you can find on SportsCareers.com.
Career Tip of the Week:
"The happiest people in the world are those who find out that WHAT THEY ARE DOING and WHAT THEY SHOULD BE DOING is the same thing".  When I repeat this quote from my grandfather, most people ask me, "How do I do that?"  Here is a quick and easy homework assignment to help identify it :
DO WHAT YOU DO BEST (SKILL SET)
List the skills you utilize most when you are enjoying your work:
List your strengths:
List your weaknesses:
BE INVOLVED IN WHAT YOU ENJOY MOST (AREA OF INTEREST)
List all the things you do not like in your job (Rank in order of max dislike):
List all the things that you like in your job (Rank in order of preference):
Now, list all the things that you would like to be included in your ideal job (Rank them in order of importance):
STAY MOTIVATED
What kind of environment keeps your motor running best?
What kind of work gives you the greatest satisfaction?
What kind of people do you work best with?
If you take the time to focus on these questions, in order from  your skills to your interests to your motivators, it will beas much easier to figure out what you should be doing and head down the career path that will make you the happiest.
Five Hot Jobs of the Week:
Sports Careers offers weekly, monthly or yearly subscriptions that provide full access to their career resources and job listings.  Visit www.sportscareers.com for more information.