Five for Friday – August 28th, 2009
It has been a pleasure covering this summer's "Five for Friday" posts here at The Business of Sports but it is officially time for me to sign off. I want to thank Russell Scibetti again for the opportunity to work alongside him this summer and look forward to returning as a guest in the future. With that said, this week on "Five for Friday" our sports business stories include the first sports Twitter-blogger to be offered a seat on press row, UW's decision to end a $425K advertising deal with MillerCoors and Anheuser-Busch, and "unethical" sponsorship agreements between professional franchises and the airline industry. We also have news of the Kings' hockey festival to take place this weekend and a Long Island insurance company's decision to offer insurance for your fantasy football league.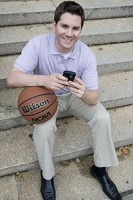 1. St. John's puts new twist on tweets – St. John's University has officially embraced Twitter by offering Peter Robert Casey a credential and seat on press row to their men's basketball home games this upcoming season. Casey was contacted by the school because of his impressive ability to network with those in the basketball community and also because he amassed over 50 thousand followers on Twitter in only eight months. His job with the university is simply to live-tweet the Red Storm's home basketball games from a court side seat giving online fans and followers of @Peter_R_Casey a great inside look at each game.
2. UW ends $425k deal with MillerCoors, Anheuser-Busch – A University of Wisconsin campus committee recommended that they no longer renew their sponsorship contract with MillerCoors and Anheuser-Busch InBev in order to fight against the promotion of binge drinking. The University's football fans will most likely hear few if any beer ads listening to the game via radio this year for the first time in a long while.
3. Are Recent Airline Deals Unethical Sponsorships?– On Monday, AirTran announced that it was the official airline of the Atlanta Falcons even though the team will not use AirTran as transportation once this upcoming year. The sponsorship agreement between the airline and the Falcons constitutes signage in the Georgia Dome for AirTran, a Falcons themed plane, and the use of Falcons players in AirTran advertisements. Should professional sports teams have to sign a charter deal with an airline before sponsorship agreements are allowed to even be considered?
4. Kings hope Hockey Fest heats up passion for the franchise– This past year the Los Angeles Kings missed the playoffs only to see their biggest rival hoist the Stanley Cup and their Staples Center co-tenant hang another NBA championship banner. A year such as that one could make it difficult to retain fans in the Los Angeles area this upcoming season which is why the Kings are  holding a three-day Hockey Fest starting today at L.A.Live and the Nokia Theatre. The event will allow fans to meet present and past Kings players and should help the franchise energize their fan base for the upcoming season.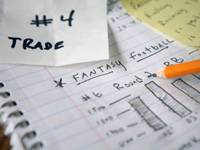 5. Fantasy Football Insurance: Good or Bad? – The folks at CNBC SportsBiz say they weren't surprised by this one, but I have to say I sure was. A Long Island insurance company is offering insurance for your fantasy football league. Policies cover any of the stipulated top 50 players of the league and offer you the entry price you paid into a league if an insured player on your team happens to miss more than two-thirds of the regular season with an injury. The insurance per player is roughly 1o percent of your individual entry fee into the league of your choice.
(Editor's Note: I'd like to take a moment to thank Dino for all his hard work during the past few months. He's been an incredible asset for the site, from his weekly "Five for Friday" posts to all his work on our different social media initiatives. I wish him the best of luck as he finishes school and continues on to what I'm sure will be the start of a great career in the sports industry. -RS)