Five For Friday – August 21, 2009
This week on "Five for Friday" we discuss President Obama's thoughts on how NASCAR can help American automakers, Michael Vick's jersey back in production, and a contract extension between the NFL and NBC. We also look into the story behind Shaquille O'Neal taking a former teammates idea for a reality television show and the marketing strategy behind ESPN The Magazine's decision to charge only four cents an issue to current subscribers.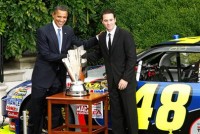 1. Obama: NASCAR Can Help With American Automakers' Recovery – President Obama is confident that American automakers will bounce back stronger than ever in years to come. Obama commented outside the White House on Wednesday that he feels it is extremely important for the Big 3 American car manufacturers to continue sponsorship agreements with NASCAR in order for a comeback in the industry to happen. As our president mentioned, "It's about as good advertising as you can get."
2. Vick jerseys back in production– When Michael Vick was reinstated by the NFL's commissioner Roger Goodell on July 27, his jersey was eligible for production. However as Dan Sarro a spokesman for Reebok commented, a Vick jersey would only begin production if demand was high enough. Sure enough retail shops all over Philly received positive signs that the number 7 green jersey would sell and so Reebok went ahead and started production once more of a Michael Vick replica jersey.
3. NFL, NBC extend 'Sunday Night Football' deal to 2013 – NFL and NBC have approved a two-year contract extension to televise Sunday Night Football through the 2013 season. NBC will also retain the rights to the Thursday night season opener as well as the two wild-card Saturday match-ups.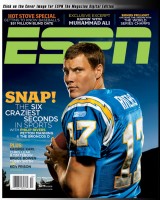 4. Why ESPN The Magazine Is Going To Four Cents – ESPN The Magazine is offering its 2 million plus subscribers a chance at a 1 year subscription to their magazine plus ESPN.com pay site, Insider, for only $1. That equates to less than four cents an issue plus the addition of Insider for free. What ESPN is trying to do here is reel in more readers to experiment with their pay site, Insider, so that when prices do rise again hopefully they will retain more paying visitors.
5. Did Shaq steal Steve Nash's idea for reality TV Show?– In 2008, around the time when Shaquille O'Neal was traded to the Phoenix Suns to play alongside Steve Nash, supposedly Nash was overheard by the media talking to a fellow teammate about his desire to start a reality television show in which he would challenge the best athletes of all major sports. About a year later, before Nash could get that project going, O'Neal started his own show, Shaq Vs., which was designed just like Nash's proposed show. Now what started off as a potential lawsuit has ended up with Nash getting an executive producer credit on the show.