Guest Post: Nothing Happens Until Something Gets Sold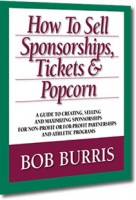 Today's post is a excerpt from "Hot to Sell Sponsorships, Tickets and Popcorn" written by former sports executive and current non-profit consultant, Bob Burris.
Nothing Happens Until Something Gets Sold!  We are ALL in the Sales Business!
You may not want to think of yourself as a salesperson because sometimes the label of being a "salesperson" might not be one that is flattering to you. But truthfully, you have been selling your entire life.
Whether it was to your parents to buy your first bike or to stay out later than your curfew; getting your first date or your first kiss; or your proposal to marry your spouse, we are always selling and have been since the beginning of time. In fact, the Bible tells us in the book of Genesis that the first recorded sale in history was the Serpent selling Eve the "Forbidden Fruit." In fact, he did such a magnificent job that he got a referral – Adam!
But before we sell our event to anyone, we must know what we have to sell and know our audience. Who do we attract? It is very important to take the time to do this exercise because any potential sponsor will be very interested in the type of people your organization draws. Consider such factors as:
Household Incomes
Education Levels
Gender
Marital Status
Number of children
How many automobiles they own
Travel – how often
How often do they frequent restaurants
The first sale you make is NOT the product you are selling. The first sale you make is selling YOURSELF to the buyer. I'm a firm believer that people buy people first and then the product they are selling. This is called "Relationship Selling," and is particularly true in the Corporate Sponsorship sales world.
The First Steps
So, when we have an event of any kind, who do we target? Based on the type of event, the first place to start is by knowing the "Hot Buttons" for corporate sponsors and then identifying categories of sponsorship that fit for your particular event.
Hot Buttons for Sponsors
When looking to make a sports or entertainment marketing purchase, corporate sponsors, are motivated by several factors.  Can the sponsorship deliver the following:
Increase Brand Loyalty
Increase Visibility
Enhance Image
Drive Retailer Traffic
Stimulate Sales
Experiential Opportunity
Client Entertainment
The next set of criteria is aimed at specific benefits the sponsorship contains. The following is a list of benefits that are perceived to be attractive to corporate sponsors:
Demographics of Audience — Does this sponsorship hit our target audience?
Category Exclusivity
Hospitality Opportunities
Exposure
Media Value, Charity or Cause
Product Sampling
On-Site Product Sales
The Second Step: Identify Your "Circle of Influence."
Each person in a company or organization has his or her own circle of influence. Who from your Board of Directors and your donors knows the decision-maker or anyone from the companies in the categories you've targeted? These people are on your board and are donors because they care and believe in the organization. They will help, if they are asked. But only ask with the provision that you are NOT asking them to sell for you!
All you want is an endorsement to the decision maker with the ultimate goal of getting a face-to-face appointment. I believe we are ALL more effective in person than we are on the phone. And if your "circle of influence" can get you an appointment or approval to call the decision maker directly, you are more than half way there. When this happens, your call now is a "warm" call as opposed to a "cold" call.
For more information on "How to Sell Sponsorships, Tickets and Popcorn," visit www.theburrisgroupllc.com.