Interview with Marty Wetherall, CEO of FanChatter

Today's post is an email interview that I recently did with Marty Wetherall, Co-Founder and CEO of FanChatter.
Marty – tell us a bit about yourself.
My background is in filmmaking and advertising, but I've always found myself figuring out ways to work in sports. My thesis film at USC was a baseball movie, I've produced Super Bowl commercials (you may remember the EDS "Cat Herders" spot in 2000), I've directed TV, in-venue, and web content for Vikings, Twins and Timberwolves in Minnesota, and back in 2005 I created a TV show for Twin Cities NBC-affiliate KARE-11 around the life and trials of being a sports fan.  We called it THE SHOW TO BE NAMED LATER… and it was completely open source. We hand-cuffed fans of opposing teams together during games, staged sports fan MC-battles, and basically did anything anyone could think of to have fun with the sports fan experience.  Most importantly, we gave fans like us a platform to broadcast their respective points of view, which we're seeing now in a big way with social media.
Social media is a hot topic among sports teams and leagues, with everyone is trying to figure out the best ways to use these new tools.  Which social media websites and services do you think are most effective in engaging with fans, and can you give us some examples of teams or companies that are doing a good job?
Twitter continues to get a lot of buzz, and for good reason. Fans are self-organizing using hashtags like #redsox. Athletes are drawn to Twitter because of the control it gives them, and we're seeing players like Shaq and Mark Madsen hearing they've been traded from fans on Twitter before hearing it from their team or agents.  Facebook is also important because of their 250 million users, but in terms of involving your fans, what happens in Facebook stays in Facebook, so I think teams could do better than to surrender all that engagement. I give credit to any brand who is accepting of the open two-way relationship they now have with their customers or fans courtesy of the social web, but soon every website will be social.  You can now sign in at the Sears website with Twitter or Facebook.  So I predict that closing the engagement gap between the social networks and your own site will be the next big trend we'll see.
One thing about social media that most intrigues me is the immediacy of it, how quickly and directly the message can be delivered.  But this can be a double-edged sword.  What are your thoughts on this?
It certainly requires a new frame of mind. A lot of brands don't want to give up control of what's being said about them. But they need to realize that this conversation – for better or worse – is already happening without them, and it's better to be a part of if than not. Brands should try to strike a balance between control and conversation, and teams need to realize that these are your fans.
Most social media efforts are focused on engaging the fan outside of the arena (online, television, etc). How can teams find a way to bring that social media engagement into the arena?
This is really at the core of what my company FanChatter is trying to do. Content sharing is happening everywhere, not just on YouTube, and today's mobile phones are a big part of this. Our Scoreboard Photo Sharing feature starts in the arena with fans vying to get their mobile photos displayed on the jumbotron, but it really comes to life after the games in the team's online gallery where photos can be downloaded, sent to friends, or shared on social media.  Content is the connector for fans and the path to engagement, so that's where I think real progress can be made in-venue.
What are some ways that sports organizations can go beyond fan engagement and actually monetize social media?
More engagement means more time spent, more page views, more chances your fans will buy stuff from you, and so on, so finding ways to harness all the online activity you're inspiring that's happening elsewhere is key.  Fans take a lot of photos with their phones at games, but simply offering them a chance that their photo will be shown on the videoboard inspires hundreds to be sent in at every game.  Now you have an interactive feature that results in content that can be repurposed online.  And sponsors are looking to prove their ROI.  Well, you have to give a little to get a little, and by that I mean give the fans a chance to participate in their experience and they'll respond with actions that can be measured and monetized.
Also, advertising using social media can be a powerful tool if used properly. Once a team's built up a following on Twitter, why not offer those followers deals on tickets and memorabilia? Best of all, you can now track how many people saw each message and measure how effective it was so you can refine it. And of course, our products help facilitate this.
What do you think the next big thing is for sports and social media?
I look at what Chris Bosh and Stephon Marbury are doing on Ustream as indicative of a whole new chapter for fans and athletes.  I once needed to get special locker room access to interview Marbury after a game for my show, and recently any fan could go online during his 3-day Ustream marathon and ask him anything they wanted with no permission whatsoever!  And athletes (and actors, and politicians) are open to this.  To me, that's another example of how the barriers are gone and convergence is happening.  Now it's up to the teams and leagues to jump on board and turn this to their advantage.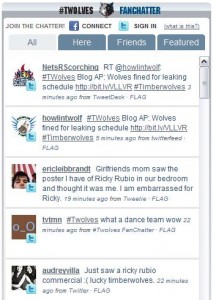 I know that FanChatter has recently released a new product.  Tell us a bit about it.
Yes – we call it the ChatterBox, and you can see it right now on the homepage of Timberwolves.com. We think ChatterBox is the future of fan chat. It aggregates social media activity about your team from Twitter and blogs, but it also lets fans sign in with their Facebook or Twitter account and join the conversation, right there on the home page. This is our third go at building a fan conversation platform, and along the way we've learned that in the heat of the moment, fans like to talk A LOT; probably more than your followers on Twitter would stand. That's why we give fans the ability to choose whether or not to post back. That enables fast-paced conversation among people directly sharing the same experience, and it's incredibly powerful. And of course, the photos work in the ChatterBox as well, creating a highly engaging real-time hub of fan activity.
You can learn more about FanChatter at www.FanChatter.com, and you can see a live example of their new ChatterBox product at www.timberwolves.com.