LeBron James and Dunk-Gate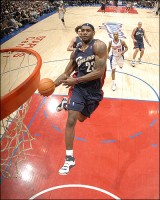 By now, everyone knows the story, but let's do a quick recap anyway.
Jordan Crawford, a college basketball player from Xavier, attended a Nike basketball camp that LeBron James was at.
During a game at this camp, Crawford dunked over LeBron.
Employees from Nike confiscated all video footage of said dunk, possibly at the request of LeBron.
I know that I'm skipping over the details of the story, but that's a nice quick summary.  The news of this generated a lotof buzz in the sports media, both traditional outlets like television and radio, as well as new media outlets like blogs and social networking sites.  The big questions were:
Did LeBron and Nike make the right or wrong decision in confiscating the footage?
Will we ever get to see this dunk?
Well today, the 2nd question was answered, as two different video clips of said dunk have been released on TMZ.com and eBaumNation.com.  Here's some of the footage (Note – I am operating under the assumption that this is legitimate. There is always the chance this is fake.)
So now we all must return to the first question – was the original decision to confiscate the video of the dunk a good or bad move by Nike and LeBron?  I heard a lot of people saying that in the age of YouTube, it was a good thing to take the video, otherwise the "embarrassing" footage would be out there for the world to see for years to come.  By taking the video away, you'd get a short-term negative reaction, but ultimately the story would fade and LeBron's reputation wouldn't take a hit.
However, I completely disagree, and I think that so far, the evidence is in my favor.  By taking away the video, Nike turned this into a much bigger story, unintentionally creating a viral conversation that most companies would pay big money to generate. Everyone wanted to see this dunk, and taking the footage away only intensified our collective desire.  When the clips leaking out today, Twitter was buzzing with people sharing the link and talking about the dunk. If the video made its way around naturally the day or so after it happened, people would have reacted and then the story would end.  Instead, the story has lasted for several days and will probably continue for several more.
So back to the question one more time – was confiscating the video the right decision?  If they wanted to "protect" LeBron and try to make this a non-story, then no.  However, in an odd way, Nike has generated a lot of buzz and publicity, so maybe it ended up being the right decision but for the wrong reasons!
UPDATE – 7/24/09: News came out today that Nike will now return the confiscated video footage. Of course, this was decided only after other video footage had already leaked.  And according to their statement, their decision to take the video "…was never about the play or the player, it was always about our media policy." If it was really about policy, why did it occur after the dunk, and why decide to release it now? I don't know how these decisions have been made throughout this story, but they did either strategically or accidentally manage to sustain quite a buzz surrounding all of this, regardless of what their actual intentions might have been.