Kentucky's Singing Billboards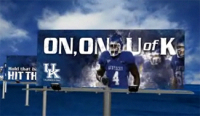 Billboards are a common part of the marketing mix for most sports organizations. You'll see them promoting season tickets, partial plans, special packages and even single-game tickets.  They tend to be a little brand focused, since they are going after people while they're driving (not the most ideal time to buy something), but they almost include an easy-to-remember URL or phone number.  Hopefully, if you pass by the billboard enough times, you'll decide to call and inquire about those tickets.
Up until recently, the biggest technological development in billboards has been digital billboards, which can be updated regularly and sometimes feature a rotation of different advertisers. From a sports perspective, these can be valuable because they can always show the most current promotion or the next game's opponent. However, down in Kentucky, there's been another "advancement"  in billboard technology – the singing billboard!
There are nine different singing billboards throughout Kentucky, each featuring one line of the University of Kentucky fight song.  If you pass by one of these special billboards, you can tune your radio to a specific station (either 1630AM or 1640 AM, depending on your location) and hear the U of K fight song.  Also, fans that submit pictures of all nine billboards will have a chance to win free tickets and other prizes.  Finally, the school has tied this campaign into a special website at www.ukfightsong.com, which includes audio, video clips, information on the contest and social networking integration with Twitter, Facebook and YouTube.
I think this is a fun, innovative approach to what is generally viewed as a traditional marketing element.  They've found a way to tun the static message of a billboard into an engaging, interactive experience.