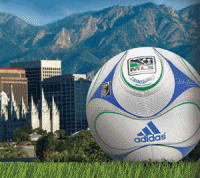 This year's MLS All-Star Game is being held later this month in Salt Lake City, so Home Depot is running  a special program to celebrate Utah's Community All-Stars.  Fans can visit www.mlsnet.com/works and nominate someone that has helped improve their local community in Utah through any type of volunteer activities.  Their applications will be reviewed and five winners will be selected to win a $1,000 gift card from Home Depot and an MLS All-Star prize pack that includes two tickets to this year's all-star game.
This might seem like a pretty simple promotion, but it's a very valuable and effective one.  Home Depot recognized the fact that Utah leads all state in total volunteerism, so this type of program really taps into that volunteer spirit of the all-star hosts. Additionally, anytime you can incorporate and promote the charitable efforts of your team or league (in this case, MLS Works), you build good will towards your fans and encourage them to help support the same charitable initiatives.  Finally, it's always nice to see how sports teams look for ways to reward their fans and give back to the community at large.
So if you know someone from Utah that deserves some recognition for their community efforts, nominate them for this program and maybe they'll be rewarded as a community all-star.