Five for Friday – July 3, 2009
We are just one day away from fireworks, hot dogs, and hamburgers but no Fourth of July would be fun without something exciting to talk about with your family and friends. So this week on "Five for Friday," we bring you news about the NFL's first off-season sponsorship deal, increased incentive to visit Miami, and Nike's contract with recent NCAA basketball champion North Carolina Tar Heels.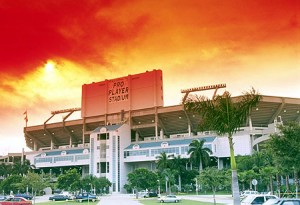 1. Marlins ballpark ground-breaking tidbits – The Florida Marlins new stadium will be ready for the 2012 baseball season, but before we can get that far we have to have a ground-breaking ceremony in honor of the team and in honor of such a large construction project. The Marlins franchise announced yesterday that the ground-breaking ceremony will take place on July 18 at 10am at the former site of the Orange Bowl and where the new stadium will be built. Entrance to the event is free and all fans will be able to shovel dirt at the exact location where home plate will be placed. Contests and other promotions help to hype the event as much as possible and build anticipation from Marlin fans for a great 2012 opening season.
2. St. Louis sets new tone for All-Star Game – Last years MLB All-Star Game in New York featured a ton of high-dollar glitz and glamor that helped promote the event so much that the economic impact on New York was estimated at $150 million. This year in St. Louis the All-Star game theme strays away from all those bright lights in order to concentrate efforts on a community service and charity theme. Partly as a result, the economic impact for the area is estimated at $60 million.
3, Dolphins team with marketing company for travel packages – Recently the Miami Dolphins partnered in a multi-year contract with Premiere Global Sports to provide travel packages to Miami Dolphins fans for home and away games. Premiere Global sports is working on packages for away games that include a 2 night hotel stay, game tickets, and a game-day souvenir all for a starting price of $245. Prices will of course be different for home games, but none the less what a brilliant way to help fans get to the game and increase ticket sales.
4. NFL adding IHOP to 2009 sponsor menu – The International House of Pancakes signed a sponsorship deal with the NFL which marks the first off-season deal for the league this year. IHOP was among many casual-dining chains that the NFL targeted for a possible off-season sponsorship. The deal is set for a three-month span from August through October. The QB Scramble is one of the new items that the restaurant chain will offer. Is anybody hungry all of a sudden?
5. UNC, Nike reach 10-year deal – The North Carolina Tar Heels will run the court, shred the field, sprint the bases, whack the tennis ball, swim through water, and throw a softball among other sports for the next 10 years wearing nothing but Nike athletic apparel. The contract between UNC and the Oregon-based footwear company was signed in May but was retroactive until July 1st of last year. It seems both parties are happy with the deal and so we will see the Nike swoosh on everything baby blue for several years to come.